Glacier skiing in autumn
Superb autumn skiing on Rettenbach Glacier high above Sölden is at the ready! You can watch countless international ski teams during their training sessions and many other passionate skiers who are very much looking forward to the forthcoming opening days. There is nothing more beautiful than enjoying the season's first turns on pristine powder snow slopes – Summer has lasted long enough!
Preparation works for the coming glacier ski season have started very early in order to guarantee immaculate slopes in autumn. Take a look behind the scenes of the Bergbahnen Sölden Mountain Lift Company.
Piling up and storing
The groundwork for this year's autumnal ski season on the glacier slopes have already started in the winter months of the last season. Late January to mid-February is the best time for "snowmaking in advance" – a generally practiced method in huge ski areas.
As temperatures use to be very low during this period, snow-making devices can produce more snow in shorter time. About 15 snow-making machines are in operation for this purpose.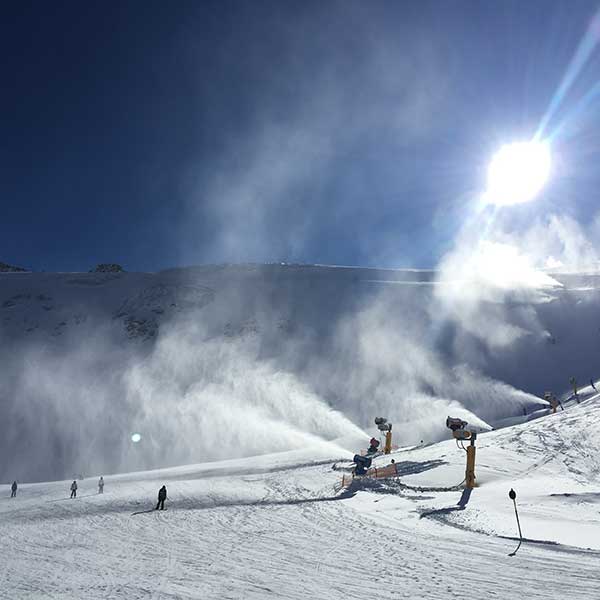 Snow guns at full throttle – using only water, of course © Michael Maier
The expert staff covers critical spots with white, light-reflecting fleece © Michael Maier
Snow Farming: well forethought – half the work!
The next step for the expert snow crew is to pile up the fresh snow by creating huge snow storage areas somewhere on the glacier, which happens mostly in May or June. Afterwards, the snow masses are accurately covered with a white, sun-reflecting fleece. This procedure is called "snow farming" and helps to prevent or slow down thaw.
In that way all neuralgic spots on about 10 hectares of glacier slopes are covered with fresh snow – like the World Cup race track, for example. Protecting and covering the snow storage areas with fleece takes approximately 2 months and is mostly done during May and July.
Backward march
At the beginning of September everything "goes into reverse" as soon as the fleece is removed again, working from top to base because there is a greater chance of snow in the higher regions – and it would be difficult to take away the cover hidden under fresh snow. The staff needs another 3 weeks for this important step.
Deep blue sky & fresh snow make a passionate skier's heartbeat faster © Isidor Nösig / Ötztal Tourismus
The eternal ice is always in motion – the lift towers as well
Every mountain lift has an obligatory check each summer and winter season. The regular control for the coming winter season is well underway. Our attention is focused especially on the glacier's T-bar ski lifts as the arched lift towers are fixed directly to the glacier surface.
The T-bar lift towers slightly move in relative motion towards the valley just like the eternal glacier ice itself. In the course of time, the lift towers would be in an inclined position. To avoid this unintended effect the arched lift towers are shifted in the opposite direction.
The eternal ice is permanently in motion © Ernst Lorenzi / Ötztal Tourismus
Skilled mountain lift experts using state-of-the-art surveying instruments are able to put the arched lift towers again in alignment with the lift track in order to guarantee a perfect cable run.
Under permanent load: the Panoramic Glacier Road © Christoph Schöch / Ötztal Tourismus
Glacier Road under burning wheels
The panoramic glacier road is closed every year from early May through early June due to extensive maintenance works. Snow removal and street cleaning with heavy trucks as well as great quantities of salt damage the road's asphalt surface severely. As a consequence, many parts of the glacier road must be renewed on a regular basis.
At the moment, the entire glacier road is equipped with striped snow poles to mark the way for snow clearing trucks in winter.
A challenge for both man & material
The appropriate handling of permanently changing weather conditions represents the touchstone for anything that follows – The expert staff has to evaluate the current situation every morning during the preparative works in early autumn:
What is the general weather situation? Can we start speading the huge snow storage piles? Where do we still need some artificially produced snow, and where not? The biggest challenge is keeping up with the current situation and responding correctly: weather conditions, cold and wind may strongly influence the water and energy budget.
Wind & weather: the ultimate endurance test for both man and material © Philipp Horak / Ötztal Tourismus
Also top-quality material has its weak points at such altitudes. For example, there is a heavy strain on all plastic and rubber elements due to the high level of UV radiation. Therefore they must be renewed much more often than normal.
Smooth running teamwork
All preparatory works are planned and supervised strategically by the ski slope coordinator. His team of about 20 experts also comprises snow-grooming machine pilots, slope rescue experts and snow masters: they all work together as a winning team with many years of experience. During the summer months, all avalanche blasting devices are prepared and loaded while the professional snow masters start a final trial run of all snow-making guns in August.
The very last preparatory phase is characterized by the hard work of about 10 to 12 snow-grooming machines that prepare the ski slopes. A very challenging job for the drivers, especially when it comes to grooming extremely steep slopes – like the World Cup race track – or south-facing ski runs with huge sun-exposed areas.
An outstanding challenge for the snow-grooming staff: the World Cup race track © Ernst Lorenzi / Ötztal Tourismus
Training units of international ski teams who feverishly await the glacier season kick-off © Ernst Lorenzi / Ötztal Tourismus
A rolling stone gathers no moss
If we want to enjoy fun-filled skiing, snowboarding and riding on superb glacier slopes already in autumn, there is a lot of work to do in the preparation phase.
While skiing aficionados try to improve their skills and techniques in January, the untiring team of Bergbahnen Sölden Mountain Lifts has already prepared the first important steps for the next autumn season with immaculate ski slopes!
Glacier skiing facts
Season kick-off on Saturday, 17.09.2016 at Rettenbach Glacier
The following mountain lifts and ski slopes are in operation:
Schwarze Schneidbahn I & II; 8:00 am to 3:30 pm; last downhill ride at 4:00 pm
SL Karleskogl; 8:00 am to 1:00 pm
Piste 32 – ski slope open from 8:00 am to 1:00 pm