A Quick Guide to Riding Flow Trails in the Bike Republic Sölden
2017 has been an exciting year so far for the Bike Republic Sölden. With the opening of three new lines, the bike park has upped the ante, boosting an already impressive network of trails. If you haven't been here yet, mark it on your list as a must-stop destination for mountain biking in the Alps.
The new lines have been crafted as flow trails, meaning among other things, routes that are especially playful and fun. Different than natural singletrails, flow trails make the most of gravity and take mountain bikers on a roller coaster type experience, enhanced with sculpted features like banked turns (berms), rolling terrain (rollers) and various types of jumps (tabletops).
Perhaps one of the best things about riding a flow trail in the Bike Republic is the ability for progression. From beginners keeping their wheels on the ground to experts enjoying some airtime, riders can develop skills and techniques on consistent and predictable surfaces, something that translates well to all the trails across the mountain and beyond.
© 2017 The Wide Eyed World/Leslie Kehmeier
Two of the new lines in particular present the best opportunities to enjoy flow trail experience. Harbe Line, accessed from the Giggiochbahn, is an exciting trail with panoramic views in an alpine setting. Ohn Line, accessed from the Gaislachkoglbahn via Eebme Line, is a long playful trail through the forest with plenty of fun features like rollers, berms and wooden bridges.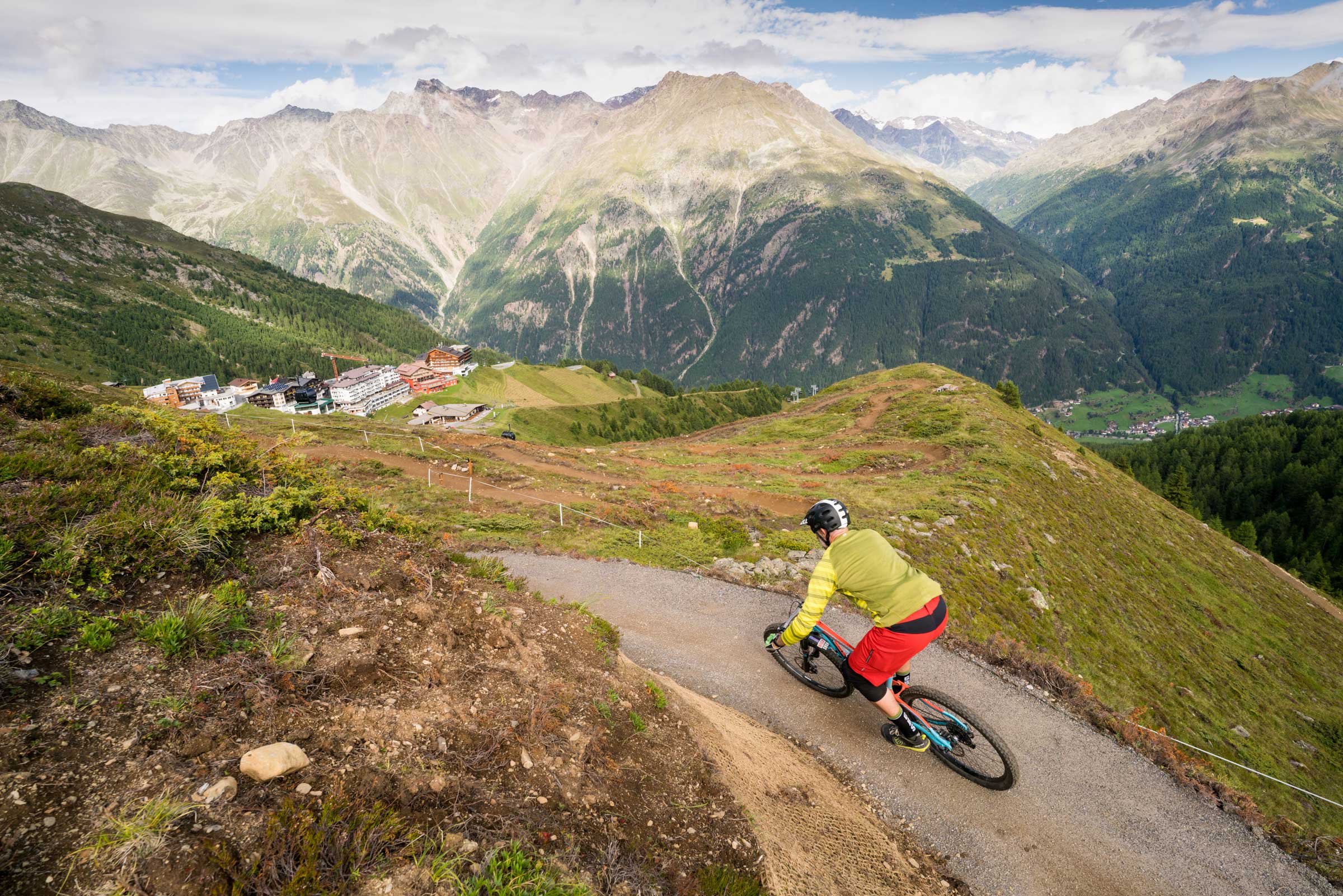 © 2017 The Wide Eyed World/Leslie Kehmeier
The lower section of Harbe line is a good place to get into the groove without much braking or pedaling. Enjoy a long section of berms and rollers that require little braking and pedaling. Remember to keep your head up and looking forward to plan your next move as you float down the trail.
© 2017 The Wide Eyed World/Leslie Kehmeier
Harbe Line has a healthy dose of exposure. It's an experience that is thrilling for some and terrifying for others. If you're new to this scenario, stay more to the inside of the trail. More experienced riders can push their limits towards the outside edge to maximize the thrill.
© 2017 The Wide Eyed World/Leslie Kehmeier
Ohn Line's main feature is rollers. These features are dirt mounds that amplify the contours of the terrain, helping you keep your momentum going from top to bottom. These features can be ridden multiple ways. Whether you roll (two wheels on the ground), manual (front wheel in the air) or jump (both wheels in the air), you're guaranteed to have a playful experience.
© 2017 The Wide Eyed World/Leslie Kehmeier
In addition to the dirt berms on Ohn Line, there are a handful of features made from wood, including a couple of wall rides. Daunting at first, they're definitely not as hard as they look. Just remember to check your speed before entering, keep the pedals level and your good foot forward. Once you're on the wall, keep yourself at 45 degrees and travel in a smooth arc, pushing the tires into the wall. Visualise the line all the way through the exit and continue down the trail.
Once you've mastered the Harbe and Ohn Lines, you'll be more than ready to venture out the other lines and natural trails throughout the Bike Republic Sölden.
All details about the Harbe Line and Ohn Line can be found HERE
For the Bike Republic Sölden Website click HERE
(Cover image: © 2017 The Wide Eyed World/Leslie Kehmeier)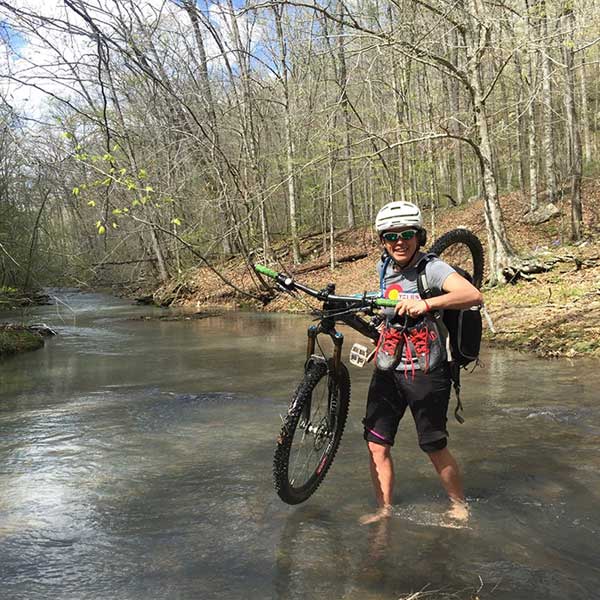 © Leslie Kehmeier
Guest Author Leslie Kehmeier
Leslie Kehmeier is a Colorado-based outdoor adventure photographer and mountain bike nerd.
Always on the go, Leslie is most comfortable running through airports to catch a flight or steering the wheel of her Sprinter van (Henry) in search of good food, amazing coffee and marking another place off the list in her quest to tell yet another story about life outdoors.
What's your favorite Flow Trail in the Bike Republic Sölden?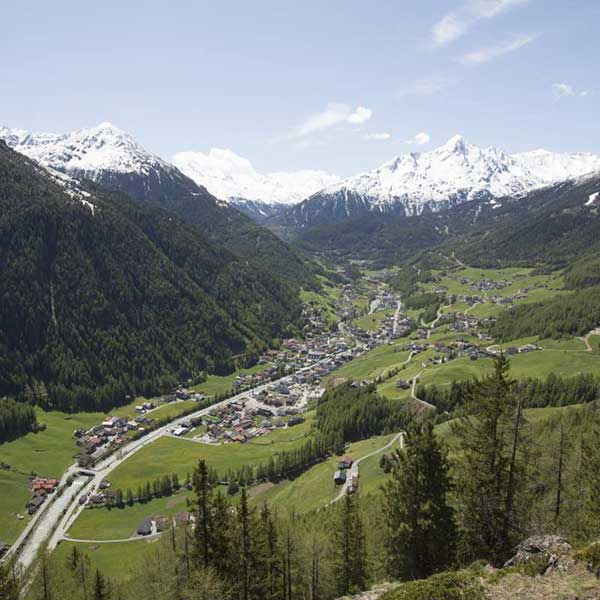 Let's go to Sölden!
Are you still in search of your perfect accommodation for a memorable holiday in Sölden? No matter if you plan your next ski vacation or superb hiking days – The Hot Spot in the Alps offers lodgings for all preferences and pocket books! Hotels of varied categories, apartments & chalets, B&Bs, private guesthouses, inns, holiday houses and quaint mountain huts cater to all tastes, just like the Ötztal valley itself.
The convenient Online Booking Platform run by Ötztal Tourismus guarantees a quick, easy and safe booking process! Guests can take full advantage of exclusive deals and holiday packages. If you have further questions, the experienced team can help you in planning your measure-made holiday as only local specialists will provide you with useful insider's recommendations.
Flipping through our offers you will find your perfect holiday accommodation for sure!
book online