Back to the Origin: Mountain Cheese Dairy at Gampe Thaya
Jakob Prantl is talking about fresh cheese curd melting in my mouth: "Can you hear it whistle?" We are inside a small mobile cheese dairy at about 2000 meters above sea level at Gampe Thaya, where the hut tenant fills his awarded "Gampe Kaas" into large cheese molds. I am one of few people allowed to enter his working place and taking a look at the production of mountain cheese.
CHEESE MAKERS ARE EARLY BIRDS
I arrive at Gampe Thaya just before 10.00 am. The small cheese dairy already sounds very busy – hard work, no question. Jakob opens the door to the hygiene sluice, wearing a typical cheese maker apron. I have to put on a hygiene hair net and overshoes.
At this time of the day Jakob from Zwieselstein, born in 1961, is already up and about for a couple of hours. His day starts already at 04:15 am when he first prepares the cheese cultures by mixing them with lukewarm milk. They can do their work while he is heading for the milking parlor.
Jakob examines fresh cheese curd
© Benedikt Steiner / Ötztal Tourismus
Watching out: the photographer won't remain undiscovered
© Benedikt Steiner / Ötztal Tourismus
EVERY BEGINNING IS IMPORTANT
"Milking is the first step of cheese making," Jakob states, underlining the great importance of this first process. Our milk comes exclusively from grey cattle, a very old breed that exists only in Tirol. 14 cows spend the whole summer on lush Alpine pasturelands right behind the mountain inn and the cheese dairy – providing the most important raw material for excellent mountain cheese.
This might be the secret of Jakob's tasty cheese which is produced only in the summer months when the cattle can graze on the nearby pastures. Normally we talk about 90 or 100 days a year. "The cows must search for their food during their summer on the Alpine meadows," explains Jakob – a skilled carpenter. Only a small amount of concentrated feed and raw fibers is added now and then.
The fresh milk from the same morning flows through a tube from the milking parlor straight into the cheese kettle. Such a closed circuit of fluid milk is necessary due to hygienic reasons, preventing that milk comes into contact with the outer environment.
FINE CHEESE REQUIRES CALM AND PATIENT WORK
Grey cattle is ever-present at Gampe Thaya – even cheese loaves carry their emblem
© Benedikt Steiner / Ötztal Tourismus
After cleaning the milking parlor at about 07:00 am, Jakob really deserves a hearty breakfast before he slips into his cheesemaker clothes. This was how I met him a couple of hours later.
"We must hurry up now!" – Jakob checks the temperature inside the cheese kettle, it's about 45 degree Celsius. When temperatures reach 44 to 47 degrees it's the perfect time to fill the cheese mass into the huge molds by removing whey afterwards. The cheese remains there for entire 24 hours, turned around six times by Jakob. Later the cheese is pressed and taken to the ripening chamber on the next day, where the loaves are stored in a salt bath.
The cheese loaves are kept in the ripening chamber up to 12 months, developing their typical aroma. The huge 18-kilogram loaves are stored in rank and file by month and date. It makes my mouth water! Luckily I can sample a delicious mountain breakfast now, including also tasty "Gampe Cheese".
A SWEET AND SPICY BREAKFAST DREAM
Dreamlike breakfast treats at 2000 meters altitude
© Benedikt Steiner / Ötztal Tourismus
While Jakob finishes his morning work and takes a quick shower, I sit down on the sunny terrace of Gampe Thaya. What a magnificent view of the Alpine scenery!
A few minutes later, my delicious mountain breakfast is served. A plate full of Jakob's mountain farming philosophy – in the true sense of the word. I feast my eyes on local delights and fresh products from own farming: fresh bread homemade by the hut tenant's family; butter from Sölden's farm wives; homemade cheese, marmalade and honey; herbal salt from Umhausen; apple juice and coffee from the Tirolean Oberland region, plus many more mouth-watering delights.
GREY CATTLE AS A CONNECTING NATURAL ELEMENT
"Almost every dish has something to do with grey cattle," Jakob explains. Food and drink are produced directly in the mountain hut, by preserving the valley's long tradition of mountain farming.
Sorry, no French fries or Coca Cola served at Gampe Thaya! "Everyone thought that my philosophy could never be successful," Jakob remembers the beginnings of Gampe Thaya some 20 years ago.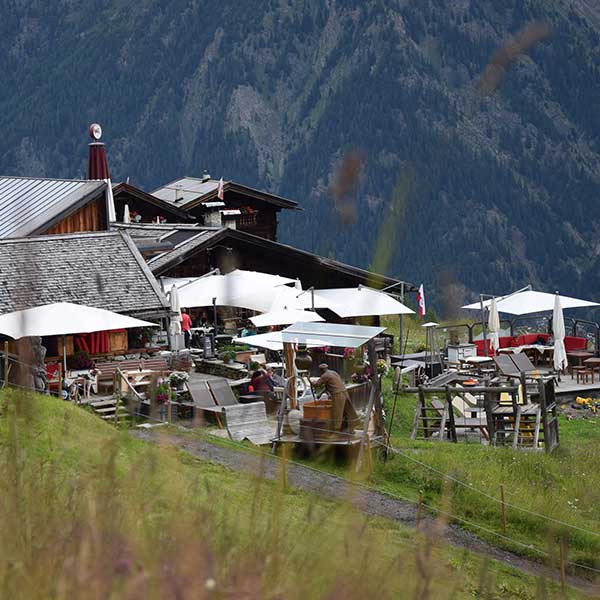 Jakob has restructured and extended Gampe Thaya with much care and love
© Benedikt Steiner / Ötztal Tourismus
Fortunately I was such a prototype of a "stubborn hut tenant", and I continued. In autumn 2015, Gampe Thaya won Austria's national mountain hut award ("Genussregion Österreich" / Category: Mountain Huts) for its culinary delicacies and its highly sustainable philosophy.
By the way: "Gampe Cheese" makes a truly outstanding experience for the palate. One thing is for sure, I will come back again … Back to the origin.
If you want to know more about Gampe Thaya visit the official website HERE.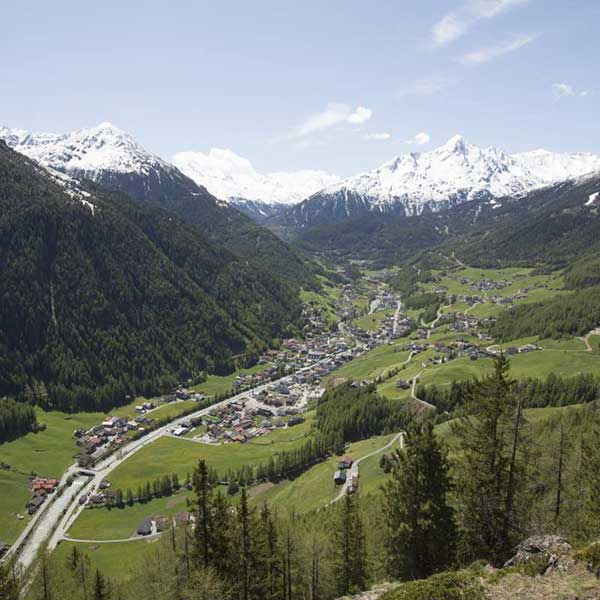 Let's go to Sölden!
Are you still in search of your perfect accommodation for a memorable holiday in Sölden? No matter if you plan your next ski vacation or superb hiking days – The Hot Spot in the Alps offers lodgings for all preferences and pocket books! Hotels of varied categories, apartments & chalets, B&Bs, private guesthouses, inns, holiday houses and quaint mountain huts cater to all tastes, just like the Ötztal valley itself.
The convenient Online Booking Platform run by Ötztal Tourismus guarantees a quick, easy and safe booking process! Guests can take full advantage of exclusive deals and holiday packages. If you have further questions, the experienced team can help you in planning your measure-made holiday as only local specialists will provide you with useful insider's recommendations.
Flipping through our offers you will find your perfect holiday accommodation for sure!
book online