007 ELEMENTS: Bond inside the Mountain
The futurist 007 ELEMENTS James Bond Installation opens its doors right inside the peak of Gaislachkogl at 3.048 meters above sea level. The building was designed by ice Q architect Johann Obermoser, the fabulous interior created by Bond Art Director Neal Callow. "What took you so long?", asks Christoph Waltz our author. She totally agrees with him: It was long overdue to indulge ourselves in a real Bond backdrop.
© 2015 Danjaq, LLC, Metro-Goldwyn-Mayer Studios Inc., Columbia Pictures Industries
007 is even for mums a reason to give in
I mainly grew up without a TV. My mother was convinced that books would tell better stories and nature would provide better pictures. Fortunately she had a soft spot for Sean Connery and therefore she made an exception for James Bond films.
I was probably sitting in front of the 007 movie with my mouth open all the time. The villains had white cats, golden pistols and glittering steel braces. Fights and chases took place on the water of Venice, the pyramids of El Giza or the Golden Gate Bridge – and then, (many many) years later, in a superb place that I know very well and now represents a new Hollywood Summit.
© Christoph Nösig
Dennis Gassner as production designer was commissioned by director Sam Mendes to find a hot and a cool shooting location for Spectre. Mendes is particularly fond of symmetric elements in terms of design and film composition. When Gassner discovered the ice Q – this clearly designed, cubic building at the 3048 meter high Gaislachkogl summit – he had found the perfect Hollywood-like Alpine scenery. In 2015, a 500-member Hollywood crew settled down in Sölden. The rear Ötztal valley became a new 007 filming location – of course, everything was top secret.
The fact that – in addition to the ice Q – another Bond highlight will move into the peak of Gaislachkogl was not a secret. 007 ELEMENTS is a cinematic adventure world offering myriad futurist experiences for all senses, that have been integrated right into the mountain by ice Q architect Johann Obermoser. It is a truly archaic building made of concrete, steel and glass with a permanent temperature of +1° Celsius in order not to influence the permafrost soil. You better dress warmly when you enter the big black steel door that gives access to a film-like scenery containing varied cubic rooms connected to each other.
Edged, creative, rich in contrasts
© Kristopher Grunert
Anyone who has a weakness for architecture will be captivated by this outstanding building and its nine chambers: the edges – just like the surrounding rocks – contrast with the round and cool elements. The Bond highlights literally explode in the dark before you suddenly reach the light again, almost floating above the steep slope that overlooks the Glacier Road which was shown in the wild chase on the screen shortly before (by the way: the car tires for the snow scenes were spiked by hand – 1500 spikes …).
In terms of stage setting it quickly becomes apparent that Hollywood was a part of the production. The installations by EON Productions and MGM (Metro-Goldwyn-Mayer Studios) are truly awesome – they are based on a concept by Neal Callow, who worked as an art director on four 007 movies, and Tino Schaedler, chief designer at the international creative agency Optimist Inc.
Behind the scenes & Q's gadgets
© Kristopher Grunert
Director Sam Mendes welcomes you to Room 1, he talks about his time in Sölden and explains the filmic background. Behind-the-scenes details about the origins of the Bond Worlds are a recurring theme also in the following rooms. You get to know bizarre things about the film shooting, the production's immense dimensions and the visionary nature of producer Broccoli and production designer Sir Ken Adam.
I don't want to lead you through the single exhibition rooms, you should really enjoy this walk yourself. But I can mention a few things: it will be a dramatic and explosive experience, light and dark, narrative and visual. And it will be digitally interactive: the Tech Lab is incredibly fun – welcome to the future! You follow the movements of your own scanned forearm and control the screen with 3D movements in the air. You will also remember the original gadgets of fantastic Q, you can try and test a variety of things on and off screen: the eponymous Golden Gun (1974) as well as the ski pole rifle from The Spy Who Loved Me (1977) and many more.
And what comes next? One of the most awe-inspiring views and outlooks: a surprisingly open space offering dreamlike vistas of the Ötztal Alps. In front of it – floating in the air – you'll see many single parts of Bond's aircraft which played the main role in the Spectre wild mountain chase down the winding glacier road and the snow-covered slopes … and through the hay barn.
For anyone who has the slightest predilection for Bond, a visit to 007 ELEMENTS in Sölden is an absolute must-do mission – even Christoph Waltz is already waiting in the gun-shaped entrance area, wondering "What took you so long?"
(Cover image: © Christoph Nösig / Bergbahnen Sölden)
007 ELEMENTS Details
The 007 ELEMENTS Installation at Gaislachkogl opens its doors on 12 July 2018
More details on opening times are available HERE
For information about ticket rates click HERE
Facts on the location at Gaislachkogl can be found HERE
Everything you want to know about 007 ELEMENTS is available HERE on the official Sölden website
© Sissi Pärsch
Guest Author Sissi Pärsch
… is a freelance journalist writing for several magazine like "BIKE" and "Bergwelten" (in German) – therefore she is a regular guest in Ötztal.
"Something I can tell you about Ötztal: it is 67 kilometers long, ascending from its entrance to the rear end with its majestic mountain peaks above 3000 meters altitude. And this valley will never stop surprising me with new and spectacular insights and outlooks."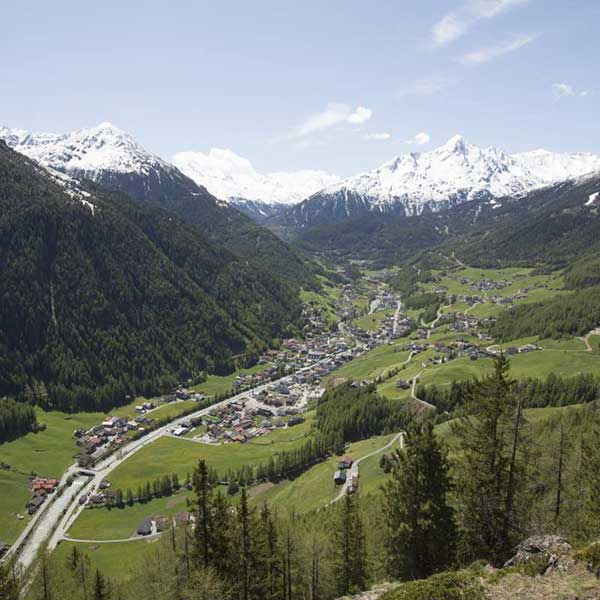 Let's go to Sölden!
Are you still in search of your perfect accommodation for a memorable holiday in Sölden? No matter if you plan your next ski vacation or superb hiking days – The Hot Spot in the Alps offers lodgings for all preferences and pocket books! Hotels of varied categories, apartments & chalets, B&Bs, private guesthouses, inns, holiday houses and quaint mountain huts cater to all tastes, just like the Ötztal valley itself.
The convenient Online Booking Platform run by Ötztal Tourismus guarantees a quick, easy and safe booking process! Guests can take full advantage of exclusive deals and holiday packages. If you have further questions, the experienced team can help you in planning your measure-made holiday as only local specialists will provide you with useful insider's recommendations.
Flipping through our offers you will find your perfect holiday accommodation for sure!
book online