BIKE REPUBLIC SÖLDEN – Let's hit the new Trails!
ZZZURRRRRRRRRRR… In Ötztal the sound of bicycle wheel hubs will soon be back in your ears as the opening of the BIKE REPUBLIC SÖLDEN (BRS) is scheduled from 15 to 17 June 2018 – change effortlessly between the two major Bike Mountains on brand-new Trails.
On familiar terms with the cows on the "Harbe Line" © Andrew Lloyd /Ötztal Tourismus
2018 Season kick-off event
One thing is already for sure: Sölden's Opening Event is an absolute must in every bike calendar. Also the supporting program promises pure entertainment: free bicycle technique training units and guided tours, BMX and MTB freestyle shows, single trail paperchase on two wheels, the Austrian Pump Track Series and, of course, a superb Bike Expo presenting the latest trends of the coming season.
And there is no better reason for a boisterous party than to celebrate the various new highlights of the BIKE REPUBLIC SÖLDEN!
Conquering new BRS heights – Keep it up!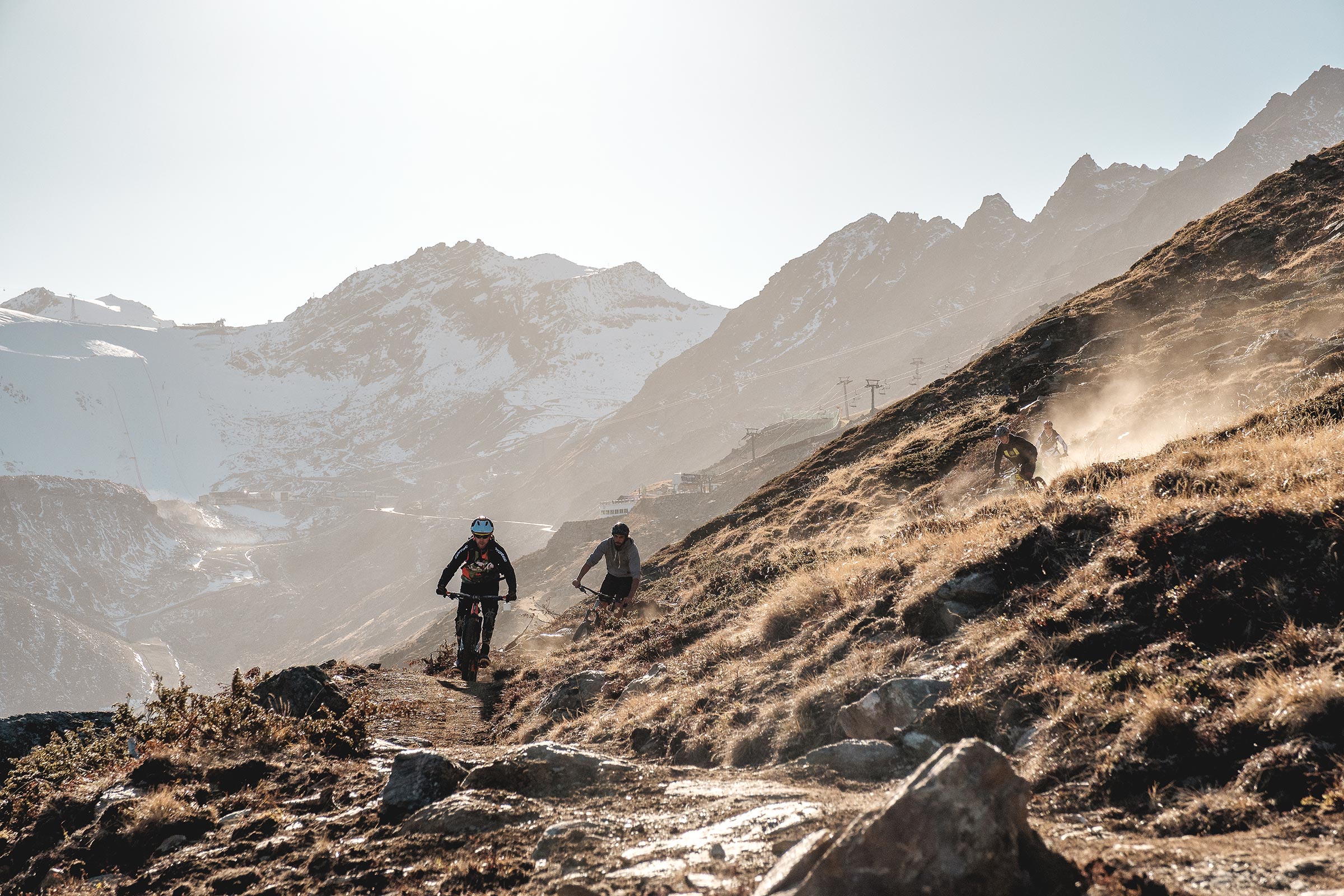 "Ollweite Line" is the new jewel of the BRS © Rudi Wyhlidal / Ötztal Tourismus
It was a rocky path for the bike visionaries in Sölden but the giant BRS project was implemented successfully. 5 years later it's time for starting into the third dimension! The 6-seater Langegg chairlift, the third mountain lift offering bike transport, is available this summer. The constantly growing BRS now features two Interconnected Bike Mountains with more than 60 km of Shaped Lines and Natural Trails. The name says it all: "Hin & Heä" (Ötztal dialect for back and forth) – you can easily switch between the Gaislachkogl and Giggijoch trails.
The new BRS attraction is waiting for you at the top station of Langegg chairlift at 2666 m altitude: "Ollweite Line" (Ötztal dialect for outside, outdoors) features a length of 7 km and 700 m of difference in altitude – it's not only the longest of all lines in the Bike Republic but also the one with the biggest vertical drop. Banked turns, rock-strewn sections and blocky terrain just perfect to test the material and improve your skills.
After a very elaborate construction period, the
"Lettn Line"
will be officially opened at the start of the 2018 summer season. A blue highway with plenty of playful elements, traveling through shady forests and lush green meadows from the hamlet of Brandle down to the base terminal of Giggijoch mountain gondola. Already its name is a slight warning as "Lettn" means morass or mud in Tirolean dialect. Splashing mud under your wheels is the order of the day!
Eco-Logic: sustainable BRS trail building concept
Where to? All bikers will find their favorite BRS line © Christoph Bayer /Ötztal Tourismus
Over the last years, Sölden has become a renowned hot spot of the mountain bike scene, not focusing exclusively on old or young, big or small, pro or rookie. A clearly designed concept developed by mastermind Dominik Linser: "Not only the biking scene should feel at home on our downhill trails but also mom and dad with their children … together on the same trail". Therefore a certain "family idea" has shaped the BRS, promising a quite homey feeling of belonging to the tribe of bikers. It's hardly surprising that more and more enduro bikers and downhill riders come to Sölden where they find smoothly flowing trails, thrilling jumps and steep passages for all abilities.
If you take a closer look at the trails – whether natural or newly shaped – you will find out very soon that all the routes harmoniously blend into the natural surroundings. They look as if they have been there already for decades. This naturalness is the result of a highly sustainability trail construction concept focusing on ecologically sustainable, natural elements. 40 pages of exact guidelines are available for the trail building concept that includes – among others – minimal clearing of woodland, minimal use of machines and no artificial drainage measures.
Full speed ahead
At the end of June 2017, the "Harbe Line" (Ötztal dialect for frequent, repeatedly) was opened. It is the connecting line between the top station of Giggijoch mountain gondola and Hochsölden where bikers can choose from a great many of further trails ("Traien", "Harise" and "Leiterberg"). Only the sky is the limit!
That's still not enough – many innovations will follow also in the coming years. Dominik Linser calls the BRS the "largest trail construction site in Europe". In the final stage of construction there will be probably about 100 km of downhill trails. Additionally, a further project focuses on a World Cup Enduro Track within the giant BRS.
"Harbe Line" boasting dreamlike views of Sölden © Andrew Lloyd / Ötztal Tourismus
"Schölder Tour" is a tempting route – culinary stops included
© Johannes Mann / Ötztal Tourismus
Enduro tip for the way back
The word "schöldern" in Ötztal dialect describes something like "we forgot to go home". This trail is a special highlight of the BRS, and you will always remember it for sure.
Did you hear about the "Schölder Tour"? The challenge becomes bigger in every section: from gentle pedaling at the beginning to technically challenging passages on the tree roots of Leiterberg Trail and a very flowing final part. Enduro at its very finest! But that's not all since this trail is also well known for its culinary rest stops: varied huts offer excellent food and mouth-watering specialties. Truly … you could really forget to go home!
Details
Opening Program Details and all important information about the BRS can be found HERE on the official website
Summer mountain lift operating times, important facts about Sölden's summer highlights and all its endless opportunities are available HERE on the official Sölden website
(Cover image: © Rudi Wyhlidal / Ötztal Toursimus)
Guest Author Bastian Bäumer
Born and grown up in North-Rhine Westphalia – probably not the right place for passionate Alpine sportsmen. Fortunately, the Austrian roots of my family couldn't be tamed although I lived in the lowlands.
When I was six years old I came to Tirol for the very first time. Every year I have spent more and more days in the Alpine mountains. Also my passion has been growing over the years. Soon I realized that I wanted to live here. So I moved to Tirol in 2008. From this moment onwards, the great passion for Alpine sports has ruled my whole life. In words and pictures … www.bastian-baeumer.com (in German)
More blogs by Bastian Bäumer:
© Bastian Bäumer
ÖTZTAL MAGAZINE
For the 2018 Ötztal Summer Magazine Bastian Bäumer has written another interesting article about the endless biking opportunities within the BIKE REPUBLIC SÖLDEN: "Future: NOW!" – You want to know more about all highlights? The print magazine contains the most interesting and entertaining stories about Ötztal's spring, summer and autumn season. Available in German, English and Dutch at all Ötztal Tourismus Information Offices. At www.oetztal.com you can also order a free copy or read the online version.
Let's go to Sölden!
Are you still in search of your perfect accommodation for a memorable holiday in Sölden? No matter if you plan your next ski vacation or superb hiking days – The Hot Spot in the Alps offers lodgings for all preferences and pocket books! Hotels of varied categories, apartments & chalets, B&Bs, private guesthouses, inns, holiday houses and quaint mountain huts cater to all tastes, just like the Ötztal valley itself.
The convenient Online Booking Platform run by Ötztal Tourismus guarantees a quick, easy and safe booking process! Guests can take full advantage of exclusive deals and holiday packages. If you have further questions, the experienced team can help you in planning your measure-made holiday as only local specialists will provide you with useful insider's recommendations.
Flipping through our offers you will find your perfect holiday accommodation for sure!
book online