Ways to unwind after a day of skiing
Been looking forward all day to storming the après-ski bars? In Sölden, you'll find all your needs fulfilled after a long day on the slopes. But if you're hoping to recover from one too many glasses of glühwein, the resort has much more to offer in the way of amusing evening pursuits. Consider a rejuvenating spa session or some window shopping in the bustling village streets, or opt for the hair of the dog in the form of a few glasses of Austrian wine. Here are our top four picks for après-ski activities in Sölden.
Relax between the Ötztal Alps. © Ötztal Tourismus, Miranda Muller
Relax in the spa
Quite honestly, there is no better way to let the evening fade away than relaxing and wellness. Many of the hotels offer spa facilities but if you not happen to stay in one that, the Sölden Leisure Arena is your best solution. The Leisure Arena provides a large pool, a sauna, a steam room and a relaxation area, as well as waterslides and a children's corner.
I was lucky and spent my days in a hotel with one of the best luxurious experiences to get in Sölden. The pool offers an oasis of calm with panoramic mountain views as well as an outdoor hot tub. Swim a few lengths, sweat in the sauna or just read a book. Hands-down the best way to end an intense day of skiing or snowboarding!
Shop till you drop
It goes without saying that the sports shops in Sölden sell just about everything under the sun. From upscale companies to stores selling fat powder skis for avid freestylers, Sölden's main street is chock-full of eye candy. Ski fanatics will spend hours browsing the impressive array of winter gear, but you can also find other shops with clothing, shoes, home décor and souvenirs. There's no shortage of tempting items on display.
Wine and dine
I'm not sure if I could become a wine conniseours this life but I know what tastes for me. For the classier among us there are a view spots offering fine wines and a varied selection of gourmet meats and cheeses. For improving my overall wine skills I decided to visit one of them.
Gather a few good friends, take a seat at the bar or one of the cosy tables and partake in some of Austria's finest cuisine. After an excellent wine tasting I have to realize that I'm still far away from being a wine grower but my taste for "good" wine is getting better and better. What a lovely way to end your day of skiing.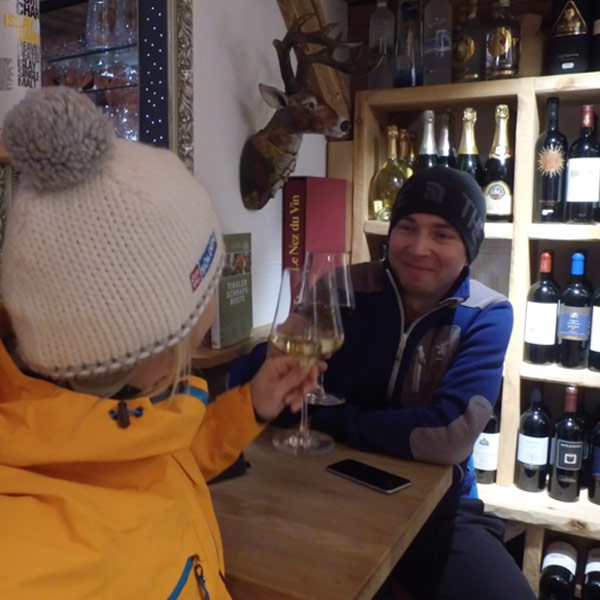 Increasing my gourmet knowledge with a glass of wine. © Ötztal Tourismus, Miranda Muller
There is a lot to discover in Sölden. © Ötztal Tourismus
Entertainment at its best
Why waste time freshening up in your hotel? The party is enjoyed in your sweaty gear and clunky ski boots, so mosey on over from the pistes directly into the closest bar to introduce the evening with fine beats and dance moves.
Of course there wait a couple of glasses of beer, wine or schnapps. In Sölden there are numerous locations for partying. The best way to experience that is to come to Sölden and make yourself your own picture.
All locations at a glance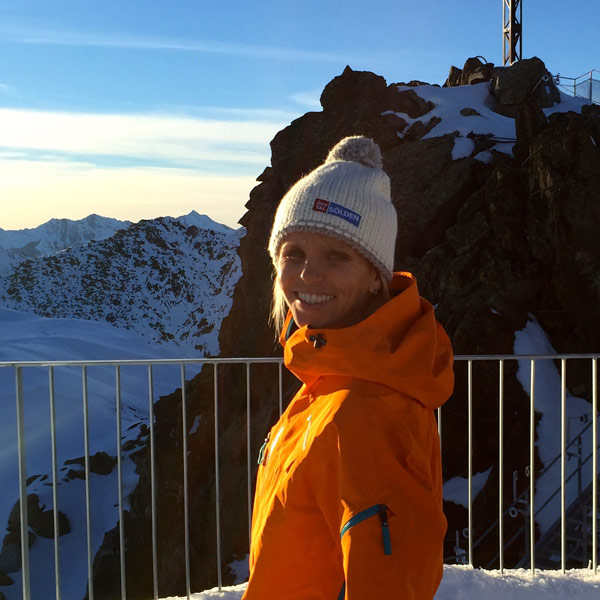 Guest author Miranda Muller – Editor-in-chief at Snowplaza.
Guest author Miranda Muller
Miranda Muller is Editor-in-chief at Snowplaza and the alps are her second home. Skiing, snowboarding, hiking or mountain biking – she loves it all. For a period of time Miranda lived in Trentino and worked as a ski instructor in the alps.