UNIQUE AMBIANCE AGAINST A FABULOUS BACKDROP
Enjoying a superb Summit Dinner is the best way to understand why James Bond has chosen the ice Q as a film shooting location. The one-of-a-kind Alpine scenery coupled with palate-tickling specialties and a fine selection of wines, accompanied by smooth jazz music promises a truly unforgettable evening – encircled by a starry blue sky at 3048 meters altitude.
I took part in this wonderful experience, soaking up a bit of this very special atmosphere.
© Ötztal Tourismus
First stop: Gaislachkogl Middle Station
And off we go! The Gaislachkogl mountain gondola takes me up to the middle station where aperitif and amuse gueule are served. A nice start into a memorable evening.
But I don't stay here – I am on the way to take a look behind the scenes of the unrivaled Summit Dinner.
As soon as I reach the Gaislachkogl top station I can't believe my eyes – a sparkling glass cube encircled by uninterrupted panoramic views of the picture-book Alpine scenery.
Similar to a picture postcard, but much better.
An enthralling experience
Managing director Valentino Schwarz and his expert crew take care of all preparations and fine tuning works before the first guests arrive.
And what's best, today is a very special moment for a young couple in love: the ice Q will play a really outstanding role in their future lives.
So let's accomplish the next TOP Secret mission at the Hot Spot in the Alps!
© Ötztal Tourismus
In my opinion, nowadays it's not enough to serve only food and drink. We want to create this special WOW effect."
Valentino Schwarz, Host at the ice Q
WOW EFFECT AT THE SUMMIT DINNER
And it was exactly this WOW effect that made the fine gourmet dishes, created by kitchen chef Patrick Schnedl and his excellent team, a unique experience: a marvelous six-course dinner menu served at the highest level.
© Tanja Stockhausen
Marriage proposal above 3000 meters
This time it's not James Bond but Marvin Spinhoff who is on an almost "Secret Mission": code name "marriage proposal".
A very outstanding place for his sophisticated plan. And Marvin proposed to Tanja in style, surrounded by no less than 250 mountain peaks in a highly romantic setting. This is probably what every women dreams of.
Of course, Tanja said "yes".
Wishing you all the best from the bottom of our hearts and good luck for your future life together. See you soon in Sölden again!
A noble finish
There is nothing better to end a wonderful evening than with a fine Grappa Nonino from the 6.3 liter Imperial Bottle of Italy's Piemonte Region.
Warm, velvety, with a long finish, lovely aromatic nuances and fruity notes of apricot, vanilla and bitter almond – a truly noble spirit.
© Ötztal Tourismus
SUMMIT DINNER – AND ACTION!
FINE DINING AT 3048 M ALTITUDE
Every Wednesday from 04 January to 22 March 2017
Reservation absolutely required
Uphill gondola ride: 6.00 pm / downhill: 10.00 pm
Parking lots at the base station of Gaislachkogl Gondola
Direct access from the mountain gondola to the ice Q
Call for reservations T 0043 664 96 09 368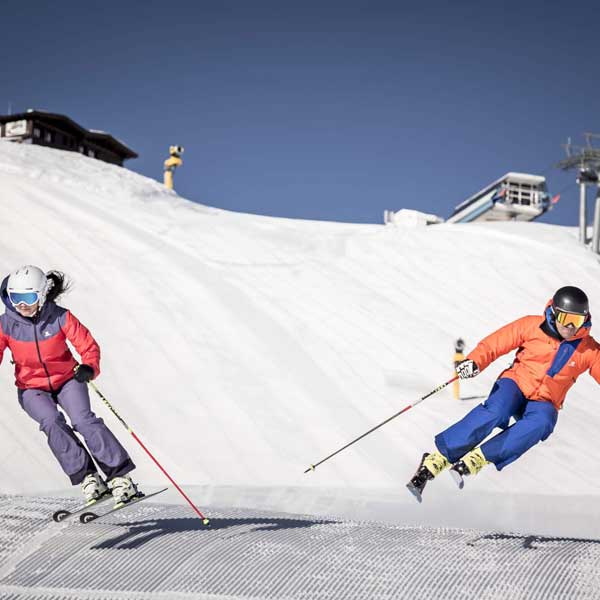 Let's go to Sölden!
Are you still in search of your perfect accommodation for a memorable holiday in Sölden? No matter if you plan your next ski vacation or superb hiking days – The Hot Spot in the Alps offers lodgings for all preferences and pocket books! Hotels of varied categories, apartments & chalets, B&Bs, private guesthouses, inns, holiday houses and quaint mountain huts cater to all tastes, just like the Ötztal valley itself.
The convenient Online Booking Platform run by Ötztal Tourismus guarantees a quick, easy and safe booking process! Guests can take full advantage of exclusive deals and holiday packages. If you have further questions, the experienced team can help you in planning your measure-made holiday as only local specialists will provide you with useful insider's recommendations.
Flipping through our offers you will find your perfect holiday accommodation for sure!
book online