Hannibal: How the Carthaginian General came to Sölden (and why he has been returning every second year)
The year is 216 BC: Carthage's general and political leader Hannibal crosses the main Alpine ridge together with some 60,000 soldiers, thousands of horses and 37 elephants in only 10 days. In 2017, more exactly on 21 April, the myth-enshrouded strategist will come back on occasion of the world's biggest contemporary live performance held on the natural open-air stage of Rettenbach Glacier at 3000 meters above sea level. Ernst Lorenzi, initiator of the spectacular event, will tell us how this project came into being and why "Ötzi" was replaced by "Hannibal".
View of Rettenbach Glacier during the "Hannibal" performance
© Isidor Nösig / Ötztal Tourismus
Why "Hannibal" and not "Ötzi"?
Ernst Lorenzi, a local from Sölden and founder of this gigantic open-air theater spectacle, has always been convinced that the Alpine scenery of Rettenbach Glacier is truly unique. Both the terrain and geographic features resemble a giant Colosseum – ideal not only for winter sport fans but also for attractions of a very different kind. Easier said than done.
Together with Red Bull owner Didi Mateschitz, a magnificent idea was born: performing a theater play in the giant natural glacier arena! Originally, they thought about the story of "Ötzi – The Iceman". After three years the project was turned down again because nothing came out of it.
Soon after, Ernst met producer Hubert Lepka who also knew Didi Mateschitz. They talked about this glacier spectacle idea, including also snow-grooming machines as they resemble bulls or elephants. So the wheels were set in motion and Hubert Lepka suggested "Hannibal" – This is how the glacier play was born.
In April 2001, the first "Hannibal" performance took place. Since then the open-air spectacle has been set on stage by the lawine torrèn artistic network on Rettenbach Glacier every two years in the middle of April.
We wanted to perform it only once – but now the glacier spectacle has become the Alpine Everyman."
Ernst Lorenzi (Initiator)
500 people on stage and behind the scenes
Such a lavish production also requires a huge number of actors, artists and other participating persons: more than 500 people from Sölden, Tirol, Austria and the rest of the world take part in the performance. "The parachutists come from all parts of Tirol, as well as the ski instructors and amateur actors," Ernst explains.
There are also actors who traveled from far away, one for example from New York – he already played a role in the "Sex and the City" TV series. Another one, born in Slovenia, is a singer in Spanish Opera Houses. "The glacier is a superb stage for all the world!"
There are heaps of "WOW" moments in the course of the glacier play
© Jürgen Skarwan
Preparing works are underway at Rettenbach Glacier. While the actors still improve their texts, the staff of Bergbahnen Sölden Mountain Lifts is busy with the huge snow pyramid in the center of glacier stage. Wolfgang "Wolly" Waldhart explains the challenging construction of a snow pyramid in the following video (in German).
Elephant "Pollux" enjoys endless freedom in the Ötztal Mountains © Ernst Lorenzi
An addition to the elephant family
Hannibal's herd of elephants has a new member in addition to the 37 snow-grooming machines. A big white animal moved directly from the Salzburg Festival to the glacier slopes. Hubert Lepka witnessed a performance of "Die Liebe der Danae" in Salzburg, a wonderful Richard Strauss opera where a life-size, white elephant enters the scene. "What a coincidence! The perfect elephant for Hannibal," he thought.
And after a couple of talks and discussions, a big truck operated by Bergbahnen Sölden ooks the giant elephant – his name is "Pollux" – to Sölden, towards the glacier fields above 3000 meters altitude. Here the elephant finally met his equals. "Pollux" has already become the favorite photo subject of skiers on the glacier slopes.
But "Pollux" is not the only attraction on 21 April: helicopters, historical Flying Bulls aircrafts, skidoos, dancers, paragliders, other sport pros, BASE jumpers of the Red Bull Skydiving Team and many more highlights are part of the memorable Glacier Spectacle – Take a quick look at this unique performance and watch the trailer below: Hannibal 2017. The full adventure can be witnessed live on Sölden's Rettenbach Glacier on 21 April.
Hannibal 2017:
Austria | Sölden | Rettenbach Glacier
Friday, 21 April 2017 | 7:30 pm | At Nightfall
Tickets and more detailed information about Hannibal:
www.hannibal.soelden.com
(Cover image: © Ernst Lorenzi)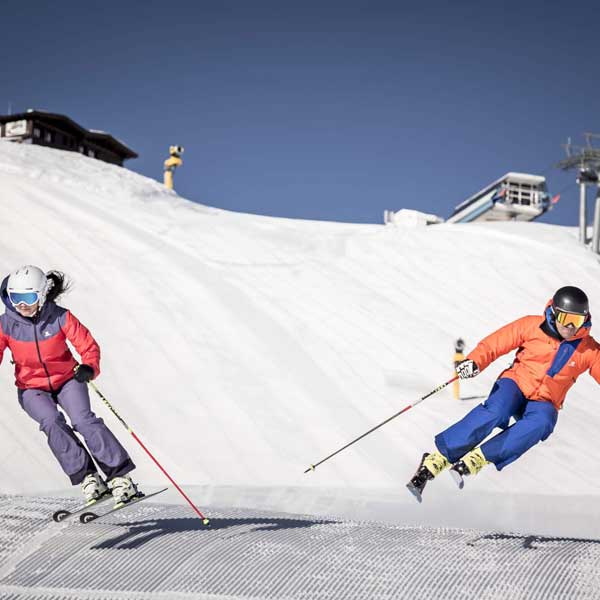 Let's go to Sölden!
Are you still in search of your perfect accommodation for a memorable holiday in Sölden? No matter if you plan your next ski vacation or superb hiking days – The Hot Spot in the Alps offers lodgings for all preferences and pocket books! Hotels of varied categories, apartments & chalets, B&Bs, private guesthouses, inns, holiday houses and quaint mountain huts cater to all tastes, just like the Ötztal valley itself.
The convenient Online Booking Platform run by Ötztal Tourismus guarantees a quick, easy and safe booking process! Guests can take full advantage of exclusive deals and holiday packages. If you have further questions, the experienced team can help you in planning your measure-made holiday as only local specialists will provide you with useful insider's recommendations.
Flipping through our offers you will find your perfect holiday accommodation for sure!
book online