Top DJ Acts on occasion of the Electric Mountain Parties at 2282 meters
Just to anticipate the pleasure of the ultimate Electric Mountain Festival in early April, there are monthly Electric Mountain Parties on the agenda. Starting on Saturday, 03 December 2016 with Germany's high flyer TOPIC who performs live in the Giggijoch Fun Zone while the EMF Pre-New Year Party takes place on 28 December.
Popular DJs in a row are scheduled throughout the winter season. Take a closer look at our overview of EMF Party Acts – there is no better way to do so than listening to them!
SAT 03.12.16 | TOPIC @ EMF Party
A prodigy of music opens the season's very first Electric Mountain Party: Tobias Topic alias
Topic
, the 24-year old DJ star and producer from Solingen/Germany, entered the charts and YouTube channels without braking already with his first
house song "Light It Up"
released in 2014. Another renowned song – "Home" – received a platinum award even in Australia.
Program:
From 1.45 pm | Support act feat. DJ Averro
3.00 pm – 4.30 pm | TOPIC live on stage
WED 28.12.16 | KUNGS & MIKE PERRY @ EMF PRE-NEW YEAR
The song "This Girl" by the young French guy Valentin Brunel alias "Kungs" became a real world hit in 2016.  Looking for a proof of success? Over 163 million views on YouTube and a support act of Star DJ David Guetta on his European tour. Kungs has become anything but a one-hit wonder.
Mike Perry, his real name is Mikael Persson, ranks among the most popular Swedish DJs and music producers. His song "The Ocean feat. Shy Martin" reached the international charts recently, including also a couple of summer hits. In Sweden he was on top of the charts for no less than 6 weeks in a row.
Program:
5.30 pm – 8.00 pm | Uphill ride with Giggijoch gondola
From 6.00 pm | AVERRO
From 8.00 pm | KUNGS & MIKE PERRY
After-show program
11.00 pm | Last downhill ride with Giggijoch gondola
Admission:
€ 34 (admission & Giggijoch gondola ride)
All details about EMF Pre-New Year Party available here
FRI 20.01.17 | FILATOV & KARAS @ EMF PARTY
Full speed ahead into the new year! On 20 January 2017, Giggijoch's Fun Zone sees a superb concert by Filatov & Karas on occasion of the EMF Party. The popular Russian DJ Duo landed a number one on the Austrian, German and Polish charts with Imany's (French singer) hit "Don't be so shy" at the beginning of 2016.
Program:
From 1.45 pm | Support program feat. DJ Averro
3.00 pm – 4.30 pm | FILATOV & KARAS live on stage
FRI 17.02.17 | RICHARD JUDGE @ EMF Party
Richard Judge from Bishop's Stortford in England, a truly amazing guy, is a singer, producer and DJ in one person. He has become popular also thanks to a successful cooperation with Robin Schulz – one of the shining examples: "Show me love" released in 2015.
Program:
From 1.45 pm | Support program feat. DJ Averro
3.00 pm – 4.30 pm | RICHARD JUDGE  live on stage
FRI 17.03.17 | DEEPEND @ EMF Party
The marvelous Dutch DJ Duo entered Europe's top charts with their remix of "Catch and Release" by Matt Simons from the US. This ultimate song entered the top charts – for example – in Belgium, Germany, Portugal, France and Spain!
Program:
From 1.45 pm | Support program feat. DJ In-Style
3.00 pm – 4.30 pm | DEEPEND live on stage
Event Location
All performances incl. EMF Parties and EMF Pre-New Year Party take place in the Fun Zone of Giggijoch (2282 m). The event area can be found right next to the Giggijoch Restaurant which is easily accessible for winter sport fands. Non-skiers take the Giggijoch mountain gondola (C30 / 10-person cabins): from the top station it's only a short walk on foot to the event area (3 min).
Admission
Free admission to the concerts and EMF Parties – except for the EMF Pre-New Year Party! Uphill ride with the Giggijoch mountain gondola (10-person cabins ) for winter sport fans with a valid skipass. Non-skiers (without winter sport gear) have to pay the gondola ticket -> return ride on Giggijoch mountain gondola (adults € 15.00 / children € 7.50).
More Details
All important details on EMF Parties, the whole Electric Mountain Festival, online tickets and packages are available here. Also take a closer look at our EMF Facebook page and the EMF Instagram profile with more up-to-to-date information!
Get Social
Why don't you join the ultimate EMF Community by browsing the best photos and hashtagging your pictures: #EMF, #EMFsoelden, #EMF17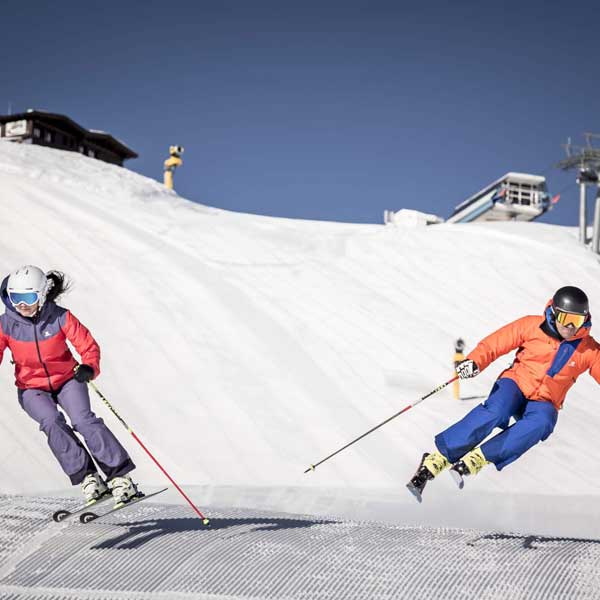 Let's go to Sölden!
Are you still in search of your perfect accommodation for a memorable holiday in Sölden? No matter if you plan your next ski vacation or superb hiking days – The Hot Spot in the Alps offers lodgings for all preferences and pocket books! Hotels of varied categories, apartments & chalets, B&Bs, private guesthouses, inns, holiday houses and quaint mountain huts cater to all tastes, just like the Ötztal valley itself.
The convenient Online Booking Platform run by Ötztal Tourismus guarantees a quick, easy and safe booking process! Guests can take full advantage of exclusive deals and holiday packages. If you have further questions, the experienced team can help you in planning your measure-made holiday as only local specialists will provide you with useful insider's recommendations.
Flipping through our offers you will find your perfect holiday accommodation for sure!
book online