Be unique – 12 types of skiers you'll meet on Sölden's ski slopes
A ski area is similar to an entire biotope. The "habitat" of skiers, riders and snowboarders is populated by the most varied winter sport species. After a splendid journey of discovery through the Sölden Ski Area we proudly present you the huge variety of ski types (not always meant seriously) we met on Sölden's ski mountains. Which type are YOU?
What they say:
"Pizza, French fries, ketchup!!!"
That's how you recognize them: The "Ski Minions" are always in a herd, guided by an alpha leader – just like in nature. Often they are accompanied and protected by parents or ski instructors, sometimes they are on a ski-lead. What's unique, their cuteness level is around 5000!
2. The "Dress-to-Impress"-Type
What he says: Strongly depends on the fancy dress – ranging from strange (animal) sounds or cool sayings like "May the night be with you".
That's how you recognize him: The "Dress-to-Impress" type wants to attract a maximum of attention, therefore you'll recognize him at first sight.
3. The "Ultimate GoPro-Pro"
What he says: "Sorry, can you please tell me if the red light on my GoPro helmet cam is blinking?"
That's how you recognize him: Half human, half machine. No, the ultimate "GoPro Pro" hasn't a divining rod in his hand but in the best of all cases two GoPro sticks to cover all angles perfectly. Further cameras attached to all parts of the body and equipment are absolutely essential to him.
What they say:
"Hey dude, check out these fabulous tricks – sooo sick!"
That's how you recognize them: The "Park Kid" is a distant relative of the "Ultimate GoPro Pro" as the Park Kid as well has a GoPro cam attached to the body. Additionally, this species is wearing oversize ski jackets and – sometimes – using twin tip skis: both the tips and tails have upwards curves (this sub-type is called "Twin Tipper"). Be it forward or backward, only the most stylish technique counts in the snow park.
5. The "Better-be-Safe"-Type
What he says:
"Better safe than sorry!"
That's how you recognize him: Simply watch out for a reflective west, very often coupled with a warning message. He keeps a maximum of distance and can be found far away from all other winter sport fans on the ski slope.
What he says:
"Since 1984 the ski area has really changed considerably."
That's how you recognize him: Looks quite radical in his neon-colored ski overall and doesn't even think about giving his ski equipment to the used clothes collection. There is one thing for sure: all fashion trends come back around!
What he says:
"Pretty aggressive snow today – but, of course, I am even more aggressive!"
That's how you recognize him: Wildly waving his arms around to make clear that other skiers are crossing his personal carving line. (check out: Carving Masters)
What he says:
"The powder stashes can wait but my social media friends can't #skiselfie."
That's how you recognize him: The "Selfie Hunter" is a typical show-off guy who wants to demonstrate his excellent skiing skills – at least when it comes to his favorite social media channels.
What he says:
"So let's start right at the beginning…(…)…(…)…"
That's how you recognize him: The "Storyteller" loves to chat and make new friends, no matter if you are interested or not. It can happen that you are trapped in a chair lift with him…
10. The "Sun Worshippers"
What they say:
"It's not sunburn, it's just a perfect tan."
That's how you recognize them: The classic "Sun Worshipper" is chasing the sun, looking for the next deckchair all day long. You won't meet him in the ski area on cold or stormy days – he leaves the hotel only in bright sunshine, heading towards the huge lounge chairs on a ski hut's sunny terrace.
What he says:
"Free-heel skiing creates memories staying with you forever!"
That's how you recognize him: Telemarking is a powerful way to ski, whereby the boot is locked into the blade at the toe but the heel is detached. If you think he kneels down to propose marriage then you are absolutely wrong – it's only a part of the telemarking technique. A quite old activity deeply rooted in history, but nowadays telemark skiers only use top modern equipment and state-of-the-art material.
What she says:
"See you later guys!"
That's how you recognize her: The "Ski Bunny" has a bright smile on her face, reminding of a fashion show model fresh from the runway. But don't be fooled by such superficiality – the Ski Bunny is a really sporty species and hits the slopes like it's no big deal in keeping with the motto: "No boyfriends on powder days."
Be unique – impressions of a day on Sölden's ski mountains
Do you recognize yourself in one of these (stereo)Types?
Of course, they are all clichés but it's much more important that you don't take others and yourself too seriously. So please leave us an inspiring comment if you belong to one of our skiing types – or help us enlarge the list, maybe we still didn't discover all possible "Types" until now …
(Pictures: © Benedikt Steiner / Christoph Tripp / Ötztal Tourismus)
Thanks a lot to all unique "Types" who have joined our fun-filled mission!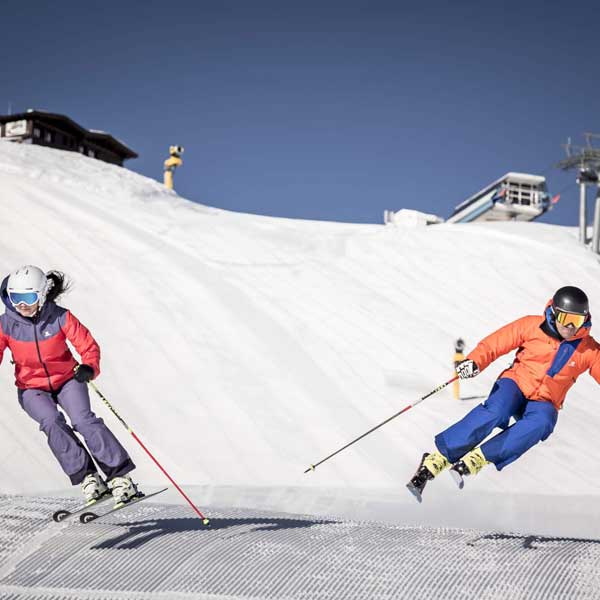 Let's go to Sölden!
Are you still in search of your perfect accommodation for a memorable holiday in Sölden? No matter if you plan your next ski vacation or superb hiking days – The Hot Spot in the Alps offers lodgings for all preferences and pocket books! Hotels of varied categories, apartments & chalets, B&Bs, private guesthouses, inns, holiday houses and quaint mountain huts cater to all tastes, just like the Ötztal valley itself.
The convenient Online Booking Platform run by Ötztal Tourismus guarantees a quick, easy and safe booking process! Guests can take full advantage of exclusive deals and holiday packages. If you have further questions, the experienced team can help you in planning your measure-made holiday as only local specialists will provide you with useful insider's recommendations.
Flipping through our offers you will find your perfect holiday accommodation for sure!
book online