Sölden has the beats: Electric Mountain Festival 2017
We are into the final countdown – a thrill of anticipation: on 06 and 07 April Giggijoch's Fun Zone will again become the melting pot of Electronic Dance Music. The ultimate EMF Electric Mountain Festival has already become a cult event in the scene thanks to international top acts. Need an example? NERVO – Australia's female music stars, models and party girls – can't get enough after their 2016 premiere in Ötztal. Therefore the two unbeatable sisters will once again appear on stage. The superb line-up comprises also many other undisputed stars like AFROJACK, Bassjackers, Michael Feiner, and more.
Welcome back girls! The twin sisters of NERVO can't get enough of Sölden and the EMF © Rudi Wyhlidal / Ötztal Tourismus
"We'll be back!"
The two DJane sisters Olivia and Miriam NERVO kept to a quotation of the "Terminator" when they left Sölden last year. Their highly successful EMF debut was perfectly matching with everything Sölden stands for: sports, lifestyle and entertainment. Previous to the show on Giggijoch, they explored the endless slopes in the Sölden ski area.
They shared unique impressions and images via Instagram and Facebook with millions of followers. But also Sölden's nightlife was made to measure for the two girls from Down Under, including jovial après-ski, culinary treats and bar hopping in Ötztal. Also in 2017 the two headliners and music producers will focus on fun for themselves and even more fun for the fans!
AFROJACK, the second main act of this year's Electric Mountain Festival, also ranks among the winter sport aficionados. Nick van de Wall has already more than 12 million followers on Facebook, Instagram, YouTube and Snapchat. And he always keeps his fans up-to-date, be it on his current tour of Brazil or during his winter sport holidays. Snowboard instead of turntables is the motto of the Dutch music artist before he entertains the crowds.
Holland is a DJ Nation
The Netherlands use to set the tone when it comes to Electronic Dance Music, at least if you take a look at the overall EMF line-up. Quintino (32nd in the Top 100 DJ ranking), the Bassjackers (top 10 in the Beatport Charts) and AFROJACK companion Ravitez are part of the Oranjes armada on Giggijoch.
The stage is conveniently located close to the Giggijoch lift, an 8-seater chair lift with orange wind protection shields, which is nicknamed the "Dutch lift" by the locals.
On 06 and 07 April, Giggijoch's Fun Zone transforms into a festival venue.
© Rudi Wyhlidal / Ötztal Tourismus
From Prog-House to Moobathon: The Line-Up covers varied facets of Electronic Dance Music. © Rudi Wyhlidal / Ötztal Tourismus
Fine tunes from Sweden
Of course, the international bunch of artists has also German and Swedish star DJs live on stage. Germany's Sophie Schäfer and Markus Lange joined forces as "Ostblockschlampen".
While the home country of ABBA and Swedish House Mafia is represented by Michael Feiner – a superb solo artist, songwriter and music producer who wrote popular hits like "Flash In The Night" or "Party People".
GOOD TO KNOW: ALL-IN-ONE TICKET
First a run on the slopes, then off to the Electric Mountain Festival directly in the skiing area of Sölden. © Rudi Wyhlidal / Ötztal Tourismus
Experienced EMF fans already know it, first-time visitors will be surprised: Holders of a valid Sölden day skipass also enjoy free admission to the EMF concerts.
Inspiring start: For the premiere of the EMF event, global super star David Guetta ecstasized thousands of fans at the Rettenbach glacier. © Albin Niederstrasser / Bergbahnen Sölden
EMF history: its beginnings …
In spring 2012 a new festival concept was born in Sölden, revolving around electronic music. Already in its first year, the organizing committee could convince a real super star for the yearly end-of-winter season party: DJ idol David Guetta performed live on stage at Rettenbach Glacier!
The lively French guy loved the high Alpine location: "It's crazy to be here in the middle of the mountains and glaciers!". But David Guetta was only the first of many unrivaled Electronic Music Stars. In the following festival editions, the open-air stage saw nice sounding names like Martin Solveig, Robin Schulz, Fedde Le Grand, Nicky Romero, Klingande, Steve Angello and many more.
Further details at: www.electric-mountain-festival.com
WANNA CATCH A GLIMPSE OF IT? THIS WAS THE ELECTRIC MOUNTAIN FESTIVAL 2016!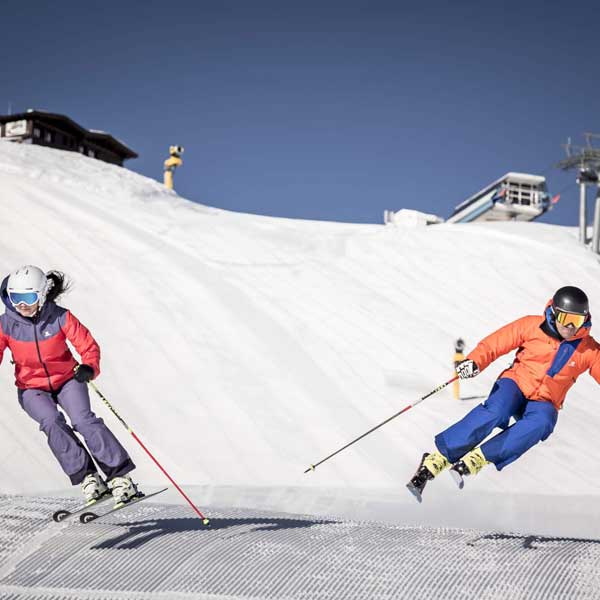 Let's go to Sölden!
Are you still in search of your perfect accommodation for a memorable holiday in Sölden? No matter if you plan your next ski vacation or superb hiking days – The Hot Spot in the Alps offers lodgings for all preferences and pocket books! Hotels of varied categories, apartments & chalets, B&Bs, private guesthouses, inns, holiday houses and quaint mountain huts cater to all tastes, just like the Ötztal valley itself.
The convenient Online Booking Platform run by Ötztal Tourismus guarantees a quick, easy and safe booking process! Guests can take full advantage of exclusive deals and holiday packages. If you have further questions, the experienced team can help you in planning your measure-made holiday as only local specialists will provide you with useful insider's recommendations.
Flipping through our offers you will find your perfect holiday accommodation for sure!
book online