Sneak Peek: "Audi Nines" stop in Sölden!
Who or what is "Audi Nines", you will probably ask yourself? To cut a long story short: some of the world's best female and male freestyle snowboarders and skiers get together for an entire week in order to take photos or film their exceptional skills on a special race course – brimming with giant jumps. From 09 to 14 April 2018, Sölden hosts this spectacular event for the first time on occasion of its 10th anniversary. New this year: the best ski and snowboard-crossers will be on the spot as well!
This was the setup last time: the snow park designers are always good for surprises © Distillery
The only constant is change
This is the whole story of nine successful years. The event series has changed its highlights and attractions constantly by adding new features. The philosophy in its first year (2011) focused on female athletes ("Nine Queens"). Two years later also female snowboard enthusiasts took part in the challenge. And in 2017 both female and male sports aficionados participated in the "Nine Royals" obstacle competition.
Followed by the upcoming metamorphosis in 2018: "Nine Royals" is now called "Audi Nines" for ski and snowboard crossers for the first time. And what's best, Sölden is the new venue!
But there is something that didn't change at all – the unrivaled "spirit" of this one-week event. Founder and organizing expert Nico Zacek explains: "In our challenges the title is not so important, winter sports and spectacular pictures and films are in the center of attention. The fans can look forward to thrilling acrobatic shows and fantastic performances."
A location that leaves nothing to be desired
The one-of-a-kind spectacle will take place in the mountains high above Sölden on Tiefenbach Glacier featuring a superb, south-facing race course in an almost perfect setting. Nico Zacek himself is totally taken by the superb location: "The setting on Tiefenbach Glacier is made to measure for such a competition. Two huge avalanche dams situated above the restaurant promise picture-book conditions for the two giant jumps. Additionally, we can take full advantage of the infrastructures on premises."
Already in October, a couple of female and male athletes from Ingolstadt met there for a workshop in order to harmonize the course design. We can look forward to thrilling performances and surprising highlights as the newly designed "SlopeX" course matches impeccably with the setup. And one thing is already for sure: the slope promises ultimate creativity and speed combined in a playful way.
Hard brainwork at the "Audi Experience Center" in Ingolstadt: we very much look forward to the results © Distillery
Top stars of the scene
Loads of world champions, Olympic winners and X-games winners will participate in the event. Among them Austria's Sportswoman of the Year 2017, snowboard star Anna Gasser. She has won almost everything last winter (also a the "Big Air" World Champion title) and is one of the medal contenders in South Korea's 2018 Olympic Winter Games. Maybe she can present an Olympic medal in Sölden in April 2018?
A full list of undisputed super heroes will get together in Sölden: e.g. Jamie Anderson (USA), David Wise (USA), Lisa Zimmermann (GER), Jesper Tjäder (SWE), Marcus Kleveland (NOR), Filip Flisar (SLO) or Alex Pullis (AUS). More than 40 media experts and representatives will broadcast the breathtaking action scenes and jumps straight to their home countries around the globe. Memorable pictures and films are guaranteed!
And what's best: On 14 April you can witness this ultimate freestyle spectacle live, and take part in the Fans' Competition Day on the spot. Wow moments and awe-inspiring acts are the order of the day – and that's a promise!
Details
Where: Tiefenbach Glacier, Sölden
When: 09 to 14 April 2018 (five shooting days, one competition day for fans on Sat, 14 April)
For up-to-date information on the "Audi Nines" check our social media channels! Take a closer look at the upcoming event HERE and check the official website. Or simply follow the "Audi Nines" in the social networks:
(Cover image: © Distillery)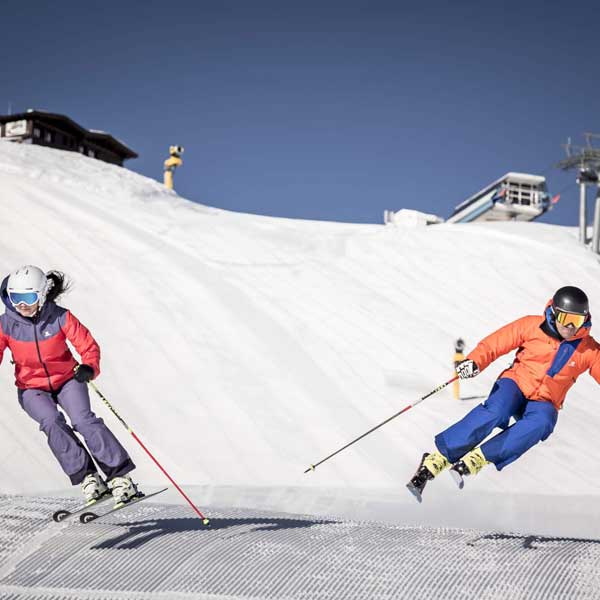 Let's go to Sölden!
Are you still in search of your perfect accommodation for a memorable holiday in Sölden? No matter if you plan your next ski vacation or superb hiking days – The Hot Spot in the Alps offers lodgings for all preferences and pocket books! Hotels of varied categories, apartments & chalets, B&Bs, private guesthouses, inns, holiday houses and quaint mountain huts cater to all tastes, just like the Ötztal valley itself.
The convenient Online Booking Platform run by Ötztal Tourismus guarantees a quick, easy and safe booking process! Guests can take full advantage of exclusive deals and holiday packages. If you have further questions, the experienced team can help you in planning your measure-made holiday as only local specialists will provide you with useful insider's recommendations.
Flipping through our offers you will find your perfect holiday accommodation for sure!
book online