Moped Marathon – Definitely the craziest event in Ötztal
Darth Vader and the Nun, Elvis and Spongebob – the Ötztaler Moped Marathon (ÖMM) has them all at the start. This June some 1500 pilots are clattering on their two-stroke cult vehicles along the challenging Cycle Marathon route: 238 kilometers, 5500 meters in altitude and four Alpine passes. The idea came from a bet. What is the motivation of this enthusiastic crowd? We interviewed four moped aficionados.
© Ötztaler Moped Verein
Andrea Rhiner (23) | St. Gallen, Switzerland
I grew up with "Töfflis", that's how we call them in Switzerland. My father is a skilled mechanic, he is an expert when it comes to bicycles, mopeds and scooters. That's how I earned my pocket money when I was younger, disassembling bicycles. At the age of 8 years I sat on the "Töffli" for the very first time.
In the countryside your own moped is a symbol of freedom and independence. I got my Puch Maxi S at the age of 13 and I still use it often, for example on "Töffli" tours to the nearby swimming lake. The ÖMM is a fixed date in our family. On 11 November we are all sitting in front of the pc with pure excitement, trying to get a starting place.
Until now we were among the lucky participants every time. The loop tour is incredibly beautiful. Perhaps I perceive this beauty even more consciously than others because I am a professional gardener: I also see the tiniest flowers and plants on the roadside and I have time to look at the gardens as we were on the road for 11 hours last time. Also the outfit belongs to me. I used to ride my moped with high heels when I went out. And here we also celebrate a party afterwards.
Janosch Purz (51) | Aflenz, Austria
I am the head of the probation service of Upper Styria, I am involved in violence prevention and I also teach the Greek probation service. Apart from that, I am very open to unusual projects: with 48.90 meters I came 17th in the ranking of the "Mobile Phone Long Throwing World Championship" in Finland.
I met ÖMM founder Manuel Ribis in 2012 at the so-called "Pig Rally". He's a man of great ideas and he also puts them into action together with his superb team. He is a playmaker while his team gives everything to implement his plan. It was clear that I had to take part in the first moped marathon.
© Ötztaler Moped Verein
I bought a Puch Maxi for the occasion and named it "Hannelore". But it was a real disaster. Gravity was not on my side and so we almost pedaled over the Alpine passes – actually I could have raced at the Cycle Marathon. I think my performance at Jaufen Pass is still legendary! But my current Puch Heim C called "Liesl" (1976) is running smoothly without any major breakdowns. Of course, you have to treat your vehicle very well without pushing it too hard. But the ÖMM is not meant for that anyway.
© Ötztaler Moped Verein
Gerd Bindl (46) | Hausham, Germany
The start was almost trauma coping for me. I absolutely wanted to top my previous year's result: I came to the ÖMM thanks to our BOB regulars' table (Bavarian Oberland Buam) and so I bought a Piaggio moped shortly before the moped event in 2016.
I spent only 80 Euros on it. I started – and right after the Sölden village sign my marathon was already over. The moped wasn't working anymore, a real disaster. I pushed it back to the campsite and cried … almost.
The second time I did it the other way around. I bought a Honda CB 50 (1978) and converted it into a purist race vehicle within eight months. It was all about welding, turning, bending and painting – one of my BOB buddies was a great help. That time the moped marathon was a dreamlike event with my "Da Wuiderer" and my Evil Knievel disguise. Everyone is so chilled and just wants to have fun. You meet strangers who help each other and even tow you off if necessary. A truly unique sense of community can be found here.
Maurus Sigg (35) | Winterthur, Switzerland
It's my first time and I am almost angry that I missed the first years because it was such a fun experience. I am a passionate collector and hobby mechanic. I want to show what mopeds can look like and what great tours are possible with them.
I have collected 30 mopeds and approximately 30 motorcycles. How did that happen? I grew up in a quite hilly region in the canton of Zurich and my school was very far away. I have always been too lazy to pedal all the way uphill and downhill, so I did not become a passionate cyclist. Instead I got a special permit for my moped license at the age of 12 – but only for the route to school.
© Ötztaler Moped Verein
Of course, later I had a car but I never forgot my moped. When I was 24 years old I reactivated my old baby again and started to repair it. And I became literally addicted to it as I also love the lifestyle of the Nineteen Fifties and Sixties. That was the time of freedom, old structures and systems were broken and everyone started to live his own life – I wish we had a revival of this spirit today.
Ötztaler Moped Marathon Details
The Ötztaler Moped Marathon XVIII starts on Friday, 22 June 2018, in Sölden. The first riders drive up towards the Glacier at 11.00 am. All other participants meet at Sölden's Gaislachkogl Mountain Gondola. In the event area a varied side program is scheduled, including kids' land, festival marquee and presentation of the mopeds.
23 June 2018 at 6.00 am: start of the legendary Moped Marathon. Entertainment program for all spectators and riders incl. live band in the Finish Area!
More detailed information can be found HERE (in German) on the official website. Watch the video below for all highlights of the previous years (Cover image: © Ötztaler Moped Verein).
© Sissi Pärsch
Guest Author Sissi Pärsch
… is a freelance journalist writing for several magazine like "BIKE" and "Bergwelten" (in German) – therefore she is a regular guest in Ötztal.
"Something I can tell you about Ötztal: it is 67 kilometers long, ascending from its entrance to the rear end with its majestic mountain peaks above 3000 meters altitude. And this valley will never stop surprising me with new and spectacular insights and outlooks."
ÖTZTAL MAGAZINE
For the 2018 Ötztal Summer Magazine Sissi Pärsch has written another interesting article about the ÖMM and its eye-catching putt-putt vehicles: "Hot Rods". You want to know more about all highlights? The print magazine contains the most interesting and entertaining stories about Ötztal's spring, summer and autumn season. Available in German, English and Dutch at all Ötztal Tourismus Information Offices. At www.oetztal.com you can also order a free copy or read the online version.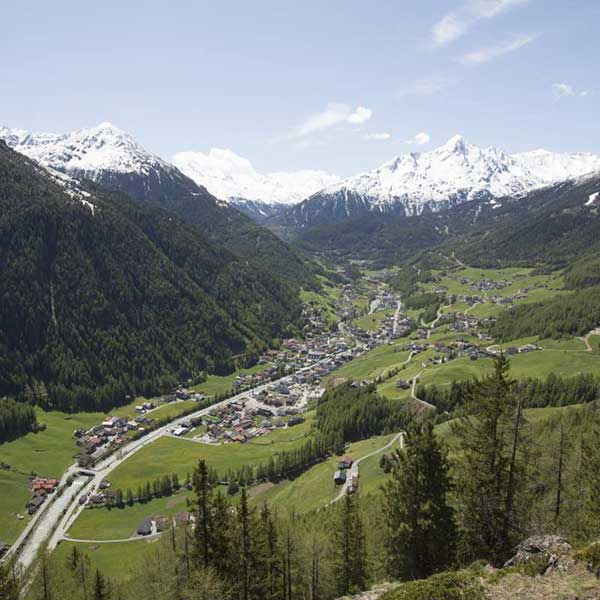 Let's go to Sölden!
Are you still in search of your perfect accommodation for a memorable holiday in Sölden? No matter if you plan your next ski vacation or superb hiking days – The Hot Spot in the Alps offers lodgings for all preferences and pocket books! Hotels of varied categories, apartments & chalets, B&Bs, private guesthouses, inns, holiday houses and quaint mountain huts cater to all tastes, just like the Ötztal valley itself.
The convenient Online Booking Platform run by Ötztal Tourismus guarantees a quick, easy and safe booking process! Guests can take full advantage of exclusive deals and holiday packages. If you have further questions, the experienced team can help you in planning your measure-made holiday as only local specialists will provide you with useful insider's recommendations.
Flipping through our offers you will find your perfect holiday accommodation for sure!
book online