Me and my Adventure-seeking Mind
The unrivaled AREA 47 at the entrance to Ötztal Valley is a whole little world of its own. More exactly, it's a world of adventures for all ages. A place where thrilling excitement meets nature exploration. The AREA 47 is the birthplace of new Outdoor Trends. Here you rediscover your adventurous spirit – romantic moments included.
In the High Rope Park: like puppets on a string © Jens Klatt / AREA 47
Moving ahead is a high-wire act
Everything, really everything is in motion. Below me the rushing white waters of the Ötztaler Ache mountain brook. Above my head I hear cars driving. Vibrations cover my entire body. Trembling tree trunks and other obstacles. My heart is beating fast. Gathering all my courage, I concentrate and focus on my strength – this is how I access the high rope park of AREA 47.
The most popular and oldest attraction of Tirol's most exciting Adventure Playground symbolizes all emotions and adrenalin kicks that the AREA 47 has to offer! Although new highlights and trendy adventure hot spots have been added year after year.
Standing below, emotions are high: a perfect blend of respect, joyful anticipation and thrill as the High Rope Park of AREA 47 can be found right below a bridge over the white waters of Ötztaler Ache, at a formidable height of 27 meters.
The play of elements
My adventure-seeking mind is yearning for water, at least sometimes. The AREA 47 is dominated by the wet element: nestling right at the banks of Ötztaler Ache's white waters, it offers everything a water sport fans' heart could possibly desire – training units, canyoning, canoeing or river rafting on the main river Inn rank among the classic highlights.
The Water Area stands for fun and action. A "Cannon Ball" catapult throws reckless divers across the swimming lake, promising pure adrenalin from top to toe. There is really no need for me to try all the attractions myself, watching them is more than enough.
Paddling in white waters: come hell or high water © Jens Klatt / AREA 47
The huge Diving Platform of AREA 47 ranks among the hot spots for the best cliff divers worldwide. Diving artists shoot through the air into the deep green waters of the swimming lake. Exhilarating!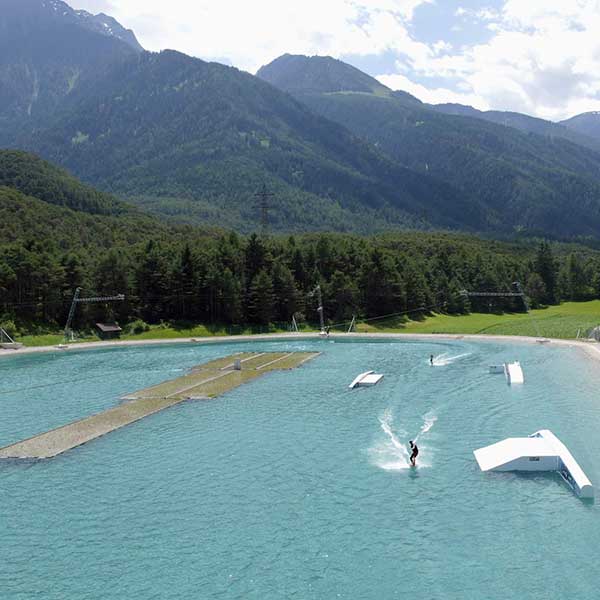 Wakeboard Area: this is your perfect wave! © AREA 47
Surf riding against a scenic alpine backdrop
The Wakeboard Area is one of the new attractions of AREA 47. An artificial lake covering 20,000 square meters was built for this quite maritime trend sport. But what exactly does wakeboarding mean? In brief: it's a hybrid of water skiing and surfing.
Its origins: in case of weak wind and low waves clever surfers attached their boards to a motor boat by taking full advantage of their "wake" – so they could try their tricks all the same. Even in the spectators' area there won't be a dry eye left.
Real beginners can take part in an introductory lesson held in a separate practicing area, while pros have unlimited fun in the Wakeboard Area for experts. It features a 420 meter long lift, kickers, boxes and varied jumps. There is no better place in the Alps where you combine both waves and beach feeling plus picture-book mountain views.
Off-road through the area 47
Air, water, earth: all elements are just perfect for an adventure-seeking spirit. Even on the ground I feel at ease! The main point is that it's crackling and rustling on two wheels. The AREA 47 also boasts an outdoor playfield for motor sport enthusiasts in Ötztal. What's best, the huge off-road area is made to measure for classic bikes and KTM Freeride electric bikes which are part of a sustainable concept.
They look like normal motorbikes but they are not noisy because they are equipped with electric motors. Nevertheless they are strong and speedy. A full set of safety equipment is available for rent. Either you try the cool indoor obstacle course or you head for longer and more thrilling tours in the surroundings of AREA 47. I will never forget the satisfied faces of a group coming back from their tour on their silent electric bikes: tired, sweaty, happy! One of them said: "I want more of it, I'll come back for sure!"
I came here to stay
At the very end of an exciting day in the AREA 47 you should listen to your inner voice: "I don't want to go away!" Everyday life is so far away on this marvelous Outdoor Playground for all ages. All those who stay, head for the lodgings.
Plain wooden tepees equipped with mattresses for about five to seven people. Homey, rustic-style lodges equipped with all modern amenities for up to five persons. Or comfy double rooms for guests enjoying a romantic twosome night after an adventurous day.
(Cover image: © Jens Klatt / AREA 47)
A wonderful state of suspense: adventures are unlimited © Jens Klatt / AREA 47
Area 47 facts
The Outdoor Arena can be found in Haiming right at the entrance to Ötztal Valley. Ample parking provided.
Opening times in 2017: 28 April – 01 October 2017 (Water Area until 03 September 2017 – subject to change)
Prices: more detailed information on Outdoor Adventure rates available at www.area47.at  – also take a closer look at day package deals incl. overnight stays. Discounted rates for groups and schools.
For even more inspiring adventures read the cover story of the ÖTZTAL MAGAZINE – Summer 2017: "In The Wet Element" (Philip Baues). This print magazine contains the most interesting and entertaining stories about Ötztal's spring, summer and autumn season. Available for free in German, English and Dutch at all Ötztal Tourismus Information Offices. Order a free copy or read the online version at www.oetztal.com.
Guest author Ernst Spreng © Spreng
Guest Author Ernst Spreng
Ernst Spreng has been a freelance journalist and teacher in Tirol for more than 20 years. He knows the Ötztal like the back of his hand. In the previous seasons, he accompanied and reported on the local Mountain Bike World Cup Team sponsored by Ötztal.
Ernst Spreng is himself a passionate cyclist and lover of nature.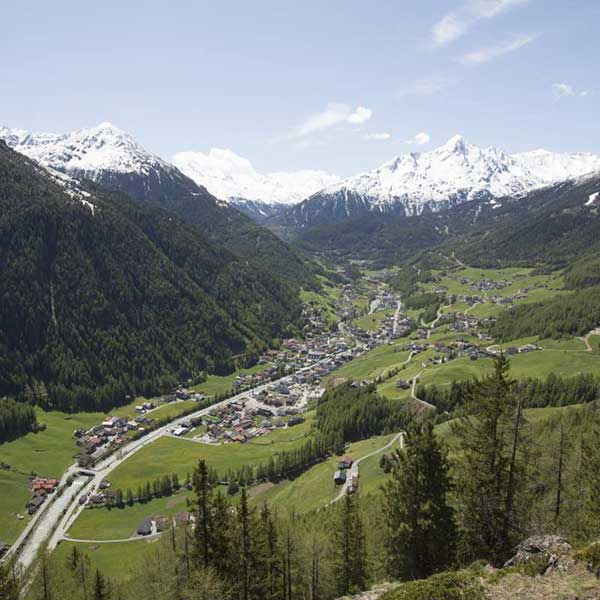 Let's go to Sölden!
Are you still in search of your perfect accommodation for a memorable holiday in Sölden? No matter if you plan your next ski vacation or superb hiking days – The Hot Spot in the Alps offers lodgings for all preferences and pocket books! Hotels of varied categories, apartments & chalets, B&Bs, private guesthouses, inns, holiday houses and quaint mountain huts cater to all tastes, just like the Ötztal valley itself.
The convenient Online Booking Platform run by Ötztal Tourismus guarantees a quick, easy and safe booking process! Guests can take full advantage of exclusive deals and holiday packages. If you have further questions, the experienced team can help you in planning your measure-made holiday as only local specialists will provide you with useful insider's recommendations.
Flipping through our offers you will find your perfect holiday accommodation for sure!
book online