Freeride Hot Spot in the Alps
When it comes to freeriding, Sölden boasts truly incredible infrastructures from the valley up to the highest glacier slopes. Freshly fallen snow in early February – providing powder snow up to our knees – promises unlimited powder cruising and cliff dropping! Join us on a breathtaking journey: two days of ultimate freeriding at the Hot Spot in the Alps.
© Eike Pöppelmeier
Two days rich in snow, early February
On our first day the sky was cloudy and it was snowing a bit – visibility was not excellent but ok. So nothing could stop us anymore, we enjoyed some 30 cm of freshly fallen powder snow.
On the second day: great – blue bird sky, bright sunshine, awe-inspiring mountain scenery plus a couple of clouds creeping down on the main Alpine ridge in the South. Another 10 cm of fresh snow on pristine ski slopes.
Safety first!
As the avalanche hazard in those days was considerable (early February!) we couldn't do longer downhill stretches off the marked ski slopes, especially in steep terrain. Risk management and appropriate equipment are an absolute must by considering also possible danger factors.
Therefore we made quite conservative decisions this day. Nevertheless we were highly enchanted by the huge variety of steep and seemingly endless freeride slopes and ski mountains. Some very special lines will be on the program in safer conditions, hopefully soon.
Rider: Eike Pöppelmeier ©  Bas Elhorst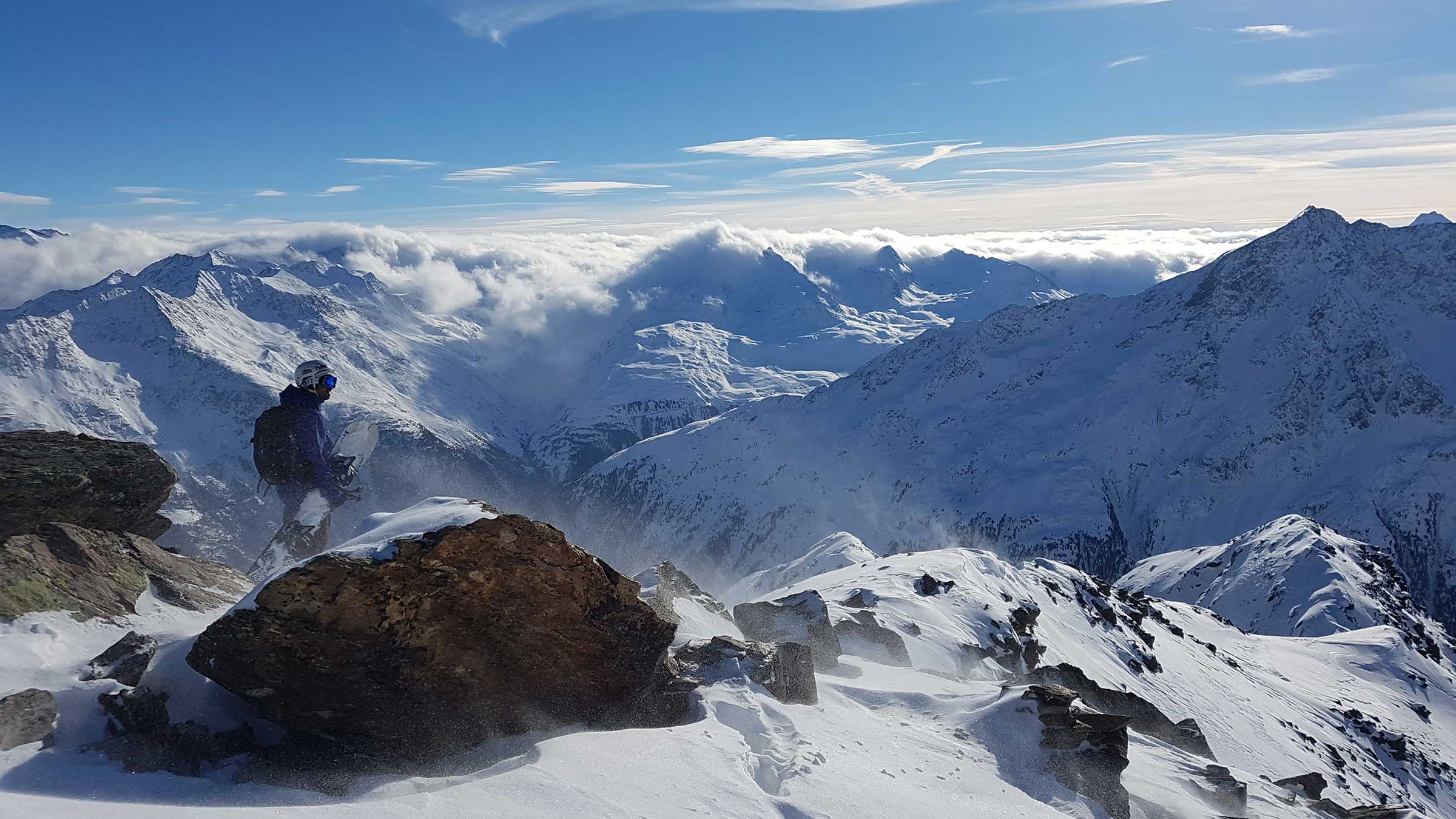 Rider: Bas Elhorst © Eike Pöppelmeier
Truly spectacular views and unlimited off-piste skiing possibilities have completely convinced us! The Gaislachkogl ski mountain boasts really one-of-a-kind freeride slopes starting right from the mountain gondola station. What's more, the two glacier ski mountains offer equally breathtaking off-piste terrain that comprises countless fantastic lines and superb powder stashes. Due to its high altitude location also the snow quality is just perfect! Additionally, the Giggijoch area or Seekogel and Schwarzkogel summits offer excellent freeriding slopes for all ability levels.
Rider: Eike Pöppelmeier © Bas Elhorst
We'll Be Back!
The lesson is clear: we had loads of snow in our faces and we didn't see any lift lines – so it's hardly surprising that the Bergbahnen Sölden mountain lifts are unbeatable when it comes to hourly capacities. Fresh powder has put a bright smile on our faces.
The weather report for the coming week is quite promising! But one thing is already for sure: we will come back soon!
The author was accompanied by snowboard professional and snowboard guide Bas Elhorst.
Cover picture: Rider: Eike Pöppelmeier © Bas Elhorst
Guest Author Eike Pöppelmeier, 36
I was born in Germany, I grew up in Canada and I lived in Norway for about eight years. I have always been fascinated by snow and freeriding – both are my greatest passions.
Until I was 20 I was an ambitious skier, then I concentrated on snowboarding. Soon I found out that I was made for freeriding. Since then, I have been traveling the world in search of the perfect snow. Furthermore I am a freelance writer at Snowbrains and Powderguide.
© Eike Pöppelmeier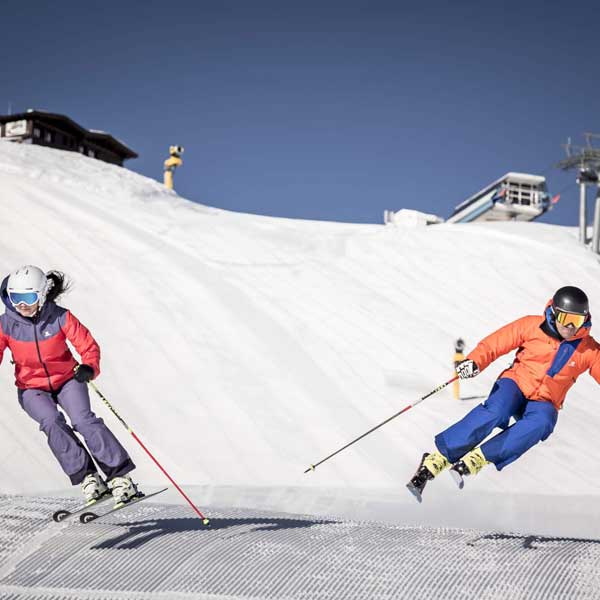 Let's go to Sölden!
Are you still in search of your perfect accommodation for a memorable holiday in Sölden? No matter if you plan your next ski vacation or superb hiking days – The Hot Spot in the Alps offers lodgings for all preferences and pocket books! Hotels of varied categories, apartments & chalets, B&Bs, private guesthouses, inns, holiday houses and quaint mountain huts cater to all tastes, just like the Ötztal valley itself.
The convenient Online Booking Platform run by Ötztal Tourismus guarantees a quick, easy and safe booking process! Guests can take full advantage of exclusive deals and holiday packages. If you have further questions, the experienced team can help you in planning your measure-made holiday as only local specialists will provide you with useful insider's recommendations.
Flipping through our offers you will find your perfect holiday accommodation for sure!
book online