5 Reasons Why You Should Not Miss The Ultimate EMF Pre-New Year Party!
On 28 December, the unrivaled Giggijoch Fun Zone at almost 2300 meters above sea level hosts the Electric Mountain Festival (EMF) Pre-New Year Party. Two recent chart toppers are on the program: live acts by Kungs and Mike Perry promise burning turntables – A highlight not to be missed for dance queens, party people and fans of electronic music.
Continue reading and find out more about the five best (not always meant seriously) reasons why you should not miss the fabulous EMF Pre-New Year Party high above Sölden's valley floor.
1. From a Ski Turn Right to the Hip Swing
© Rudi Wyhlidal / Ötztal Tourismus
There is no better warm-up training for a dance night than Alpine skiing. Before the splendid party will start at 6:00 pm, you have heaps of time to hit the immaculate ski slopes in the afternoon. Inhale the Alpine mood and get ready for fabulous dance music and fantastic moves. But save your dance legs' energy for the evening hours – you will need it for sure.
2. No Sign of Annoying Neighbors at 2282 Meters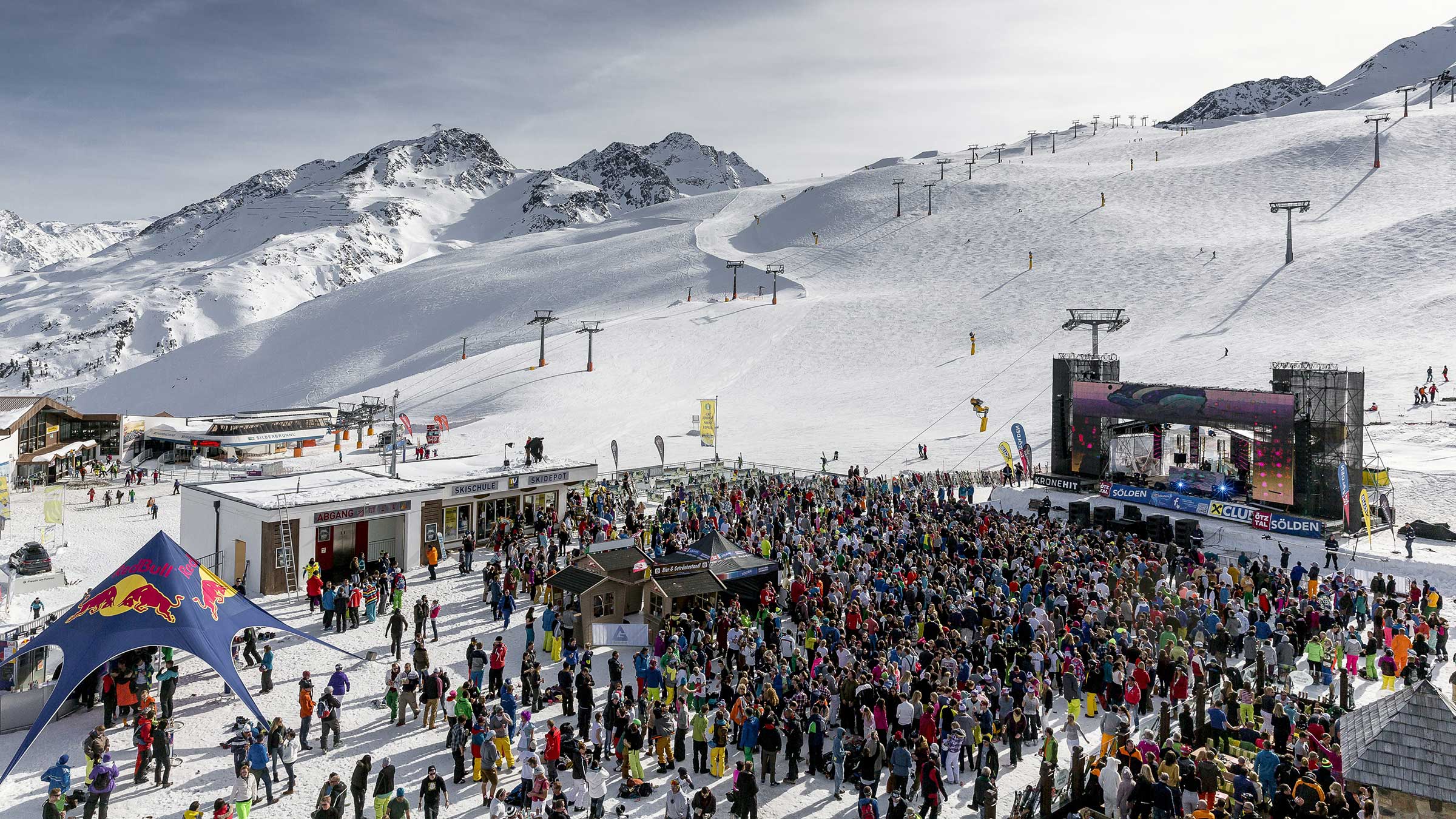 © Rudi Wyhlidal / Ötztal Tourismus
A common situation: your music system at maximum volume, spirits are high and the party has reached its absolute highlight. Then the doorbell rings! If you are lucky it's just the angry neighbor complaining about loud music. In the worst case, he has already called the police. Don't worry about all that and join the marvelous EMF Pre-New Year Party – no sign of annoying neighbors at 2282 m above sea level: just turn up that volume!
3. You Won't Need a Taxi for your Return Ride
© Rudi Wyhlidal / Bergbahnen Sölden
A superb evening without fighting for a taxi, without discussions about who is going to return when and where the next stop is! At the EMF Pre-New Year Party you simply enjoy a relaxing return ride on the brand-new Giggijoch mountain gondola. Uphill riding times: from 5:30 pm to 8:00 pm / Last downhill ride: 11:00 pm.
4. And the Party Goes on Down in the Valley
© Martin Klotz / Bergbahnen Sölden
Party people and night owls, who are still not tired enough after the EMF Pre-New Year Party, are strongly recommended to change from the snow blanket straight to the dance floor! Sölden boasts countless après-ski hot spots, atmospheric bars, lively pubs and trendy discos just perfect to celebrate until the small hours.
5. Chart Toppers on the DJ Decks
© Rudi Wyhlidal / Ötztal Tourismus
The French highflier Kungs and Sweden's DJ and producer Mikael Persson alias Mike Perry, two unrivaled chart toppers in 2016, make the EMF stage tremble. Their songs "This Girl" (Kungs) and "The Ocean" (Mike Perry) have become absolute summer hits! Recall this unique summer feeling one more time before you indulge in the breathtaking winter scenery at the turn of the year.
Already convinced? Then come and celebrate with us a mesmerizing turn of the year in Giggijoch's Fun Zone on 28 December from 6:00 pm. More detailed information on the EMF Pre-New Year Party is available here.
Of course, there are an infinite number of other good reasons why you should not miss the EMF Pre-New Year Party! Any suggestions? So leave your comment and tell us more about your personal reason why you should never ever miss this ultimate event.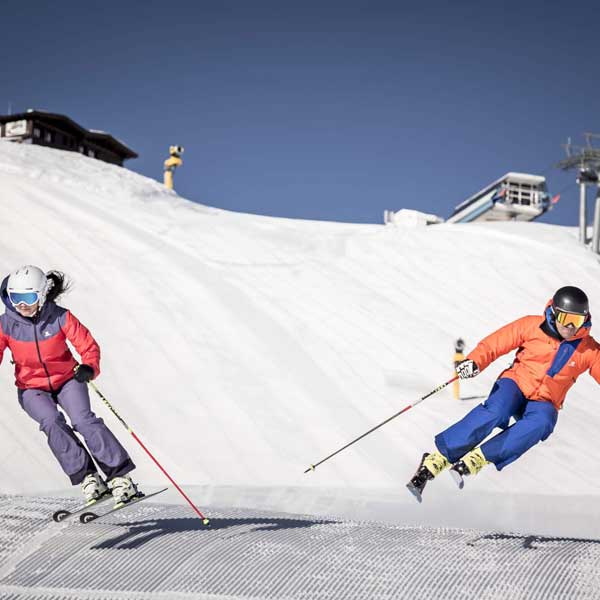 Let's go to Sölden!
Are you still in search of your perfect accommodation for a memorable holiday in Sölden? No matter if you plan your next ski vacation or superb hiking days – The Hot Spot in the Alps offers lodgings for all preferences and pocket books! Hotels of varied categories, apartments & chalets, B&Bs, private guesthouses, inns, holiday houses and quaint mountain huts cater to all tastes, just like the Ötztal valley itself.
The convenient Online Booking Platform run by Ötztal Tourismus guarantees a quick, easy and safe booking process! Guests can take full advantage of exclusive deals and holiday packages. If you have further questions, the experienced team can help you in planning your measure-made holiday as only local specialists will provide you with useful insider's recommendations.
Flipping through our offers you will find your perfect holiday accommodation for sure!
book online