Brilliant Glacier Stadium Voices
Their presentations are almost legendary and belong to the Alpine Ski World just like the steep race slope on Rettenbach Glacier. We can't imagine one without the other: Stefan Steinacher and Didi Ziesel. Ahead of the 2017 races they give us a personal insight into their forthcoming Sölden Weekend, including all their rituals and necessary preparation works.
Stefan Steinacher (r.) interviews former ÖSV racer Florian Scheiber from Sölden. © Bergbahnen Sölden / Markus Geisler
How do they handle such a huge amount of information and why do they know all these little details? The two presenters of the Glacier Stadium are widely known for their comprehensive knowledge when it comes to Alpine World Cup Races. "I am involved in sport events twelve months a year and I am highly interested in all details – for example, the summer hobbies of the athletes," Steinacher explains. Therefore Austrian, German and Swiss newspapers are an absolute must on Stefan's breakfast table.
With facts, figures and statistics his team mate Ziesel is completely in his element. The athlete's database reveals many little secrets: number of wins and podiums, biggest or smallest differences in race times, the most successful nations, and a lot more. "Didi is a teacher, he has plenty of time," Stefan jokes. "It's important to stay in close touch with both athletes and coaches, by establishing a personal connection."
Getting in the right mood for Sölden
The unrivaled Glacier Stadium makes a perfect stage for the two top presenters.
© Ötztal Tourismus / Erich Spiess
Generally, the World Cup Opening starts for Stefan Steinacher on Wednesday. And there are quite many traditions and habits like the very first coffee with Sigrid Riml at his accommodation or playing cards with former ski racer Lisi Kirchler who also lives in Ötztal. "At this time of the week I start to feel at home, I am ready for this very special rhythm," states Stefan from Tirol's Fieberbrunn. He attends all press conferences and many other events presented by the skiing industry. Additionally, the Fan TV team produces all large-screen videos together with the two pros.
Early risers
Is this a dream job? Yes, if you are an early bird! A classic race day starts at 6.00 am for Steinacher and Ziesel, followed by a quick breakfast. By 7.00 am at the latest, the team is heading already towards the glacier. Also the shuttle driver Andi Brugger has become their regular companion.
Hard work for the vocal chords is on the program all day long. On their return to the valley they already prepare the interviews for the prize-giving ceremony. And after dinner all work is almost done – except some reports for the races on Sunday.
Slovenia's skiing queen Tina Maze also cuts a fine figure as a presenter.
© Bergbahnen Sölden / Markus Geisler
Great for all fans of the top ski stars: the two presenters involve the race enthusiasts on the fan stand permanently.
© Bergbahnen Sölden / Markus Geisler
Steinacher is strongly connected to Sölden: "This was the first Alpine Ski World Cup in Austria where I worked as a presenter. The event organizers allowed me to make a combination of music and sports event – a quite farsighted idea. At the beginning the presenter was alone with one DJ, today there is a six-man team that accompanies us. We are in the center of attention but without our team we are nothing."
As an invisible voice in their ears Daniela Maier directs the two presenters step by step. A fairly sporty challenge! The work station can be found at incredible 2700 meters above sea level. Energy drinks and hot tea are absolutely required for a strong and clear voice at such altitudes.
The official bib number drawing at Sölden's Postplatz square: Didi Ziesel and Kathrin Zettel. © Bergbahnen Sölden / Markus Geisler
Educational value
Although many international skiers can talk German sometimes a quick and precise translation is needed on the spot. And that's exactly Didi Ziesel's job (teacher at Sportschule Saalfelden). He is a real genius and can speak four languages, which is an immense advantage in this job.
Also his know-how when it comes to ski sports is unbeatable. Among others, DSV skiing coach Christian Schwaiger was under his wings. Stefan Steinacher aimed for a sports career but didn't go beyond FIS Races in the Tirolean squad. We are glad that he ended up in the World Cup Circus!
Attractive substitute
The 2017 setting changes slightly as Didi Ziesel is in action only on Sunday at the Men's race. At the official bib number drawing Stefan is assisted by eye-catching Miss Tirol, Alexandra Pahr. "She is an experienced skier and has an excellent ski sports knowledge. Additionally, she is very attractive", the presenter enthuses.
Lukas Schweighofer, a well-loved Austrian ORF TV host, isn't a newcomer in front of the camera but it's the first time that he deals with thousands of spectators in the Glacier Stadium at the women's race on Saturday.
In Sölden Stefan Steinacher from Tirol (r.) – in this picture with Tourism Board Director Oliver Schwarz – presented his first World Cup Race. © Bergbahnen Sölden / Markus Geisler
How comes such an exciting race weekend to an end for Steinacher and his team? "On Sunday I enjoy a steak at Sigi Grüner, my former ski instructor coach, and the closing meeting is scheduled for Monday. Then we already look forward to 2018!" Steinacher smiles.
DETAILS
The FIS Alpine Ski World Cup Opening of Sölden takes place at Rettenbach Glacier from 27 to 29 October 2017. The Women's Giant Slalom is held on Saturday, 28 Oct 2017. The Men's Giant Slalom is scheduled for Sunday, 29 Oct 2017.
All program details and further information on tickets, rates & more can be found HERE on the official Ski World Cup Opening website.
(Cover image: © Isidor Nösig / Ötztal Tourismus)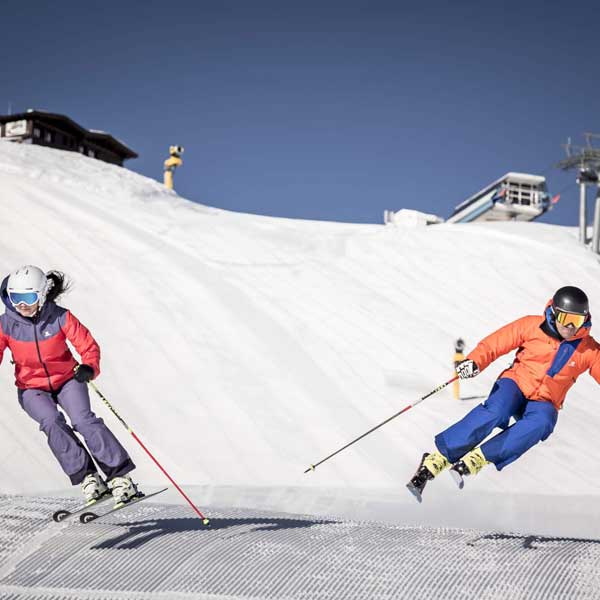 Let's go to Sölden!
Are you still in search of your perfect accommodation for a memorable holiday in Sölden? No matter if you plan your next ski vacation or superb hiking days – The Hot Spot in the Alps offers lodgings for all preferences and pocket books! Hotels of varied categories, apartments & chalets, B&Bs, private guesthouses, inns, holiday houses and quaint mountain huts cater to all tastes, just like the Ötztal valley itself.
The convenient Online Booking Platform run by Ötztal Tourismus guarantees a quick, easy and safe booking process! Guests can take full advantage of exclusive deals and holiday packages. If you have further questions, the experienced team can help you in planning your measure-made holiday as only local specialists will provide you with useful insider's recommendations.
Flipping through our offers you will find your perfect holiday accommodation for sure!
book online