Bike Republic Sölden: the hottest tracks
Knock-knock … it's me, summer time! I am standing at your door, please let me in. And for you, my dear Bike Republic Sölden, I have heaps of attractive news! All visitors will be enchanted, be it a beginner or real expert. Unlimited fun and action are waiting for you on 27 km of Single Trails and 13 km of awesome Downhill Lines.
Trail construction still at full speed © Dominik Kuen
What's new?
Summer is in the air and one thing is for sure: It's high noon to explore all new highlights in the unrivaled Bike Republic Sölden! Already in 2016, this ultimate trail park has become one of the hot spots for mountain bike aficionados.
Modern mountain bike sports are exciting and awe-inspiring. And what's best, a new chapter is added year after year. In the 2017 summer season, two new lines promise thrilling moments: "Ohn Line" and "Harbe Line".
MTB trail names in dialect
Quite strange names – but they are all typical Ötztal dialect words. This unique language was declared UNESCO Intangible Cultural Heritage, a fact that proves deeply rooted traditions which are still preserved by the young locals.
All Bike Republic Citizens from around the globe can learn a couple of typical Ötztal words: "ohn" means downhill, "eebm" stands for almost flat and "harbe" characterizes something that is done continuously.
Very soon the Bike Republic Sölden will open its doors
© Christoph Bayer / Ötztal Tourismus
The downhill track is about 6 km long and of "blue" / intermediate difficulty, featuring 800 meters of difference in altitude. Very similar to the already existing "Teäre Line" – the stubborn track with 130 turns, leading from the middle station of Gaislachkogl mountain gondola to Sölden's village center.
The sun behind us, keeping an eye on the new Trail Map
© Christoph Bayer / Ötztal Tourismus
Trails from a bird's eye view
We are sitting in the new Giggijoch mountain gondola and can already make out some thrilling parts of the downhill adventures to come. Especially the new "Harbe Line", starting at the top station and leading right below the gondola track on 2 kilometers.
In Ötztal the dialect word "harbe" means again and again: therefore the new line is just perfect for real trail aficionados who like to ride this track without stopping. Of course, there are also many more news and highlights … we don't reveal now. Simply take a closer look at the new Bike Republic Sölden Trail Map!
This little piece of paper gives already a deep insight into adventurous mountain biking days. The thinnest lines describe further projects of the future Bike Republic Sölden. It's hardly surprising that everyone is talking about Europe's biggest trail construction site this summer.
It has already become a classic highlight: the wall ride on Teäre Line © Johannes Mann / Ötztal Tourismus
The whole story started with a great vision a couple of years ago. Passionate downhill and mountain bikers were totally enthralled by the idea although it was a long and stony way until the foundation of the Bike Republic Sölden. And it's not a sheer coincidence that Ötztal's first downhill track was named "Teäre Line": headstrong, stubborn, willful – just like the countless hurdles to be taken with patience and endurance.
Pure enjoyment and real stubbornness
"Zaahe Line" deserves its name: thrilling jumps & extremely steep sections promise adrenalin galore © Rudi Wyhlidal / Ötztal Tourismus
We hit the ultimate "Teäre Trail" as well as we can. It reminds of a giant marble run covering 800 meters of difference in altitude on a length of 6 km straight down to the valley floor. But there are no difficult obstacles in order to guarantee unlimited biking fun to everyone. Experienced and expert downhill bikers are also recommended to try the challenging "Zaahe Line" (= not easy to conquer) offering many jumps and steep passages.
The three Bike Republic Pillars
Nature trails as far as your eyes can see. Convenient mountain lifts including the Giggijoch and Gaislachkogl gondolas that ensure an effortless ascent. Among the true highlights for downhill-oriented mountain bikers ranks the Big III Rally combining all three characteristics on a single loop tour.
All three trails have their own attractions and history. In addition to the "Teäre Line", the Big III Rally also comprises the "Nene Trail" and "Schölder Trail": "Nene" means grandfather, one of the most popular lines reminding of the ancient Ötztal footpaths at grandpa's time.
Exploring the Nene Single Trail: what would grandpa say about it?
© Johannes Mann / Ötztal Tourismus
Another Ötztal dialect word is "schöldern" – strolling around. This is exactly the case when you enjoy biking on the Ötztal mountains, past quaint mountain inns and rustic huts where culinary delights are served. What's more, the trail becomes more tricky, including almost level stretches at its start and technically challenging tree root trails at the end. Enduro par excellence.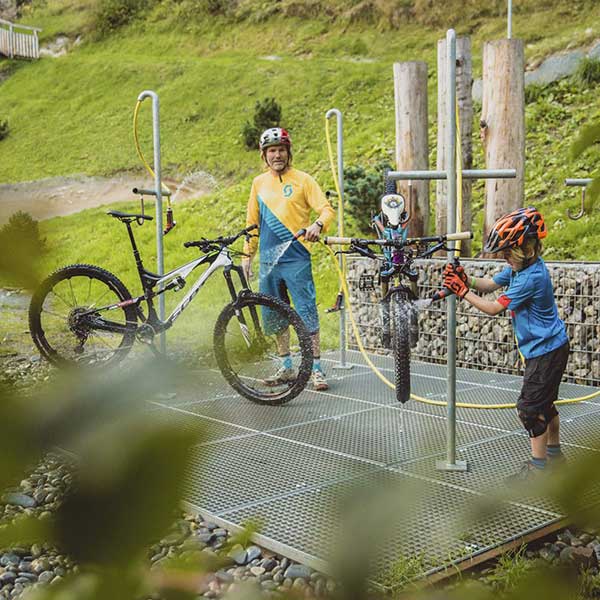 If you love your bike, clean it: Bike Wash Station next to the Pump Track
© Christoph Bayer / Ötztal Tourismus
True heaven for bikers!
I feel at home and warmly welcomed right from start – not like in other Alpine mountain regions. The Bike Republic Sölden has a great heart for downhill bikers and endurists by adding countless attractions every year. And there are still many plans and projects to be finished – besides the downhill-oriented "Teäre Line", the Pump Track in its finish area at the heart of Sölden and the splendid Big III Rally high up in the mountains.
Another superb advantage and highlight available from this summer season onwards: the Bike Republic Sölden is a member of the huge Gravity Card Community, comprising Europe's biggest Bike Parks.
Bike Republic Code of Honor
Catch me if you can © Christoph Bayer / Ötztal Tourismus
To cut a long story short: There are unlimited possibilities and perspectives offered by the Bike Republic Sölden. A fact that also requires a maximum of team work and consideration for other bikers, walkers or hikers. Respect is of utmost importance on all trails and lines used by both mountain bikers and hikers. Enjoy nature and explore the picture-book Alpine surroundings. No matter if sportspeople or leisurely nature explorers, we all have a common goal: to preserve unspoilt Alpine landscapes also for the future generations.
(Cover image: © Christoph Bayer / Ötztal Tourismus)
Bike Republic Sölden Facts
For the Bike Republic Sölden website click HERE
Season start: 15 June 2017
End of season: 01 October 2017
Mountain bike transport: Gaislachkogl & Giggijoch mountain gondolas
Take a look at all open trails and lines HERE
Check the Trail Map HERE
MTB tickets: day ticket € 34 – more details available HERE
Bike Republic Sölden BIKE OPENING: 15 – 18 June 2017, all details can be found HERE
MOUNTAIN LIFTS UNLIMITED: endless biking fun for Ötztal Premium Card & Ötztal Card holders! Small surcharge for MTB fans in possess of the Ötztal Premium Card if you want to use the summer mountain lifts as often as you want every day (otherwise only 1 daily uphill & downhill ride included) – for more details click HERE
Bike Republic Sölden is a member of the Gravity Card – further information available HERE
Appropriate protective gear required. Take a closer look at the code of conduct HERE
All facts and figures on the Bike Republic Sölden can be found HERE
Upcoming Bike Opening Highlights
Guest Author Bastian Bäumer
Born and grown up in North-Rhine Westphalia – probably not the right place for passionate Alpine sportsmen. Fortunately, the Austrian roots of my family couldn't be tamed although I lived in the lowlands.
When I was six years old I came to Tirol for the very first time. Every year I have spent more and more days in the Alpine mountains. Also my passion has been growing over the years. Soon I realized that I wanted to live here. So I moved to Tirol in 2008.
From this moment onwards, the great passion for Alpine sports has ruled my whole life. In words and pictures …
www.bastian-baeumer.com (in German)
© Bastian Bäumer
Ötztal Magazine
The new 2017 ÖTZTAL SUMMER MAGAZINE gives a deep insight into the world of cycling sports and marvelous tours: "Time to Bike" by Bastian Bäumer describes the Bike Republic Sölden while "Road of Superlatives" by Ernst Spreng presents the challenging Tour de Suisse leading up to Rettenbach Glacier. You want to know more about all highlights? This print magazine contains the most interesting and entertaining stories about Ötztal's spring, summer and autumn season. Available in German, English and Dutch at all Ötztal Tourismus Information Offices. Order a free copy or read the online version at www.oetztal.com.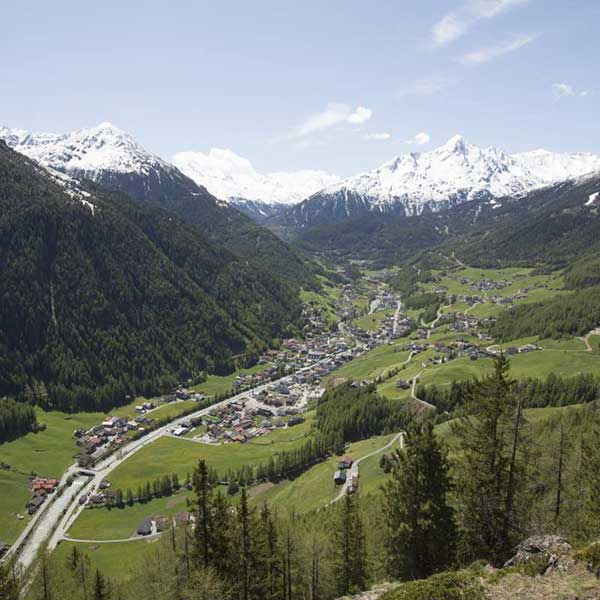 Let's go to Sölden!
Are you still in search of your perfect accommodation for a memorable holiday in Sölden? No matter if you plan your next ski vacation or superb hiking days – The Hot Spot in the Alps offers lodgings for all preferences and pocket books! Hotels of varied categories, apartments & chalets, B&Bs, private guesthouses, inns, holiday houses and quaint mountain huts cater to all tastes, just like the Ötztal valley itself.
The convenient Online Booking Platform run by Ötztal Tourismus guarantees a quick, easy and safe booking process! Guests can take full advantage of exclusive deals and holiday packages. If you have further questions, the experienced team can help you in planning your measure-made holiday as only local specialists will provide you with useful insider's recommendations.
Flipping through our offers you will find your perfect holiday accommodation for sure!
book online