Audi Nines: 9 Good Reasons why you should not miss this Freestyle Spectacle
Now the countdown is already on for Saturday, 14 April 2018: scenic Tiefenbach Glacier towering high above Sölden hosts a truly superb "flying show" where the world's freestyle skiing and snowboarding elite will get together. For the very first time, also the best ski and snowboard-crossers take part in this event.
While working really hard at the event location and shifting meter-high snow masses, we would like to help you pass the time until the great competition day – by presenting 9 good reasons why Tiefenbach Glacier is the place to be on 14 April 2018.
1. SPORTS AT THE HIGHEST LEVEL
© Distillery
Switch Backside Double Cork 1260, Frontside Triple Cork 1440. These are only two tricks that could make you dizzy even when uttered. However, the popular athletes at the Audi Nines should not feel dizzy at all as they fly several meters high through the air with the greatest of ease – turning around their own axes numerous times.
Spectators can look forward to a really extraordinary freestyle show. Over the last few years, freestyle sports – especially the women's activities – have developed incredibly fast. Furthermore, it will be interesting to see if there are new tricks to see in this whole new freestyle world.
2. A COURSE OTHERWISE KNOWN ONLY FROM VIDEO GAMES
If you have watched the video to the end, there's probably no doubt that the designed "Slope X" course, that combines the "Slopestyle" and "Cross" disciplines, is quite tricky – you inevitably feel like in a video game!
The course design was also chosen by some of the participating athletes who worked on sketches during a workshop held in Germany's Ingolstadt. The course is being shaped by the "Schneestern" shape crew who has been working on the setup for entire weeks – moving masses of snow.
3. A FIELD OF COMPETITORS BRIMMING OVER WITH OLYMPIC MEDAL WINNERS AND LEGENDS!
Get ready for the "Who's Who" of the scene – including freshly crowned Olympic gold medal winners such as Austrian Anna Gasser (Snowboarding Big Air), Jamie Anderson (USA, Snowboard Slopestyle) and Øystein Bråten (NOR, Ski Slopestyle) – just to mention a few.
But also true sport legends, who normally do not participate in public competitions, have accepted the invitation. Among them, for example, the exceptional French freerider Xavier de le Rue (Snowboard).
4. BE INSPIRED – AND TEST YOUR SKILLS AT THE AREA 47 SNOW PARK SÖLDEN OR ON THE FUN SLOPE
With such huge amounts of action you can take your motivation for granted – and you'd better get on the board yourself to try tricks or conquer steep turns. The best places to acclimatize are the Area 47 Snow Park Sölden and the Fun Slope Sölden (both are located in the winter ski area). Always worth a visit! (The Sölden winter ski area is still open until Sunday, 22 April)
Get to know more about the Area 47 Snow Park Sölden HERE. Further details on the Fun Slope are available HERE.
5. CELEBRATE THE END OF SEASON PROPERLY
© Rudi Wyhlidal / Ötztal Tourismus
The contest day on 14 April is the perfect opportunity to celebrate your personal end of winter season. So don't hesitate and pack your skis or snowboard one last time!
Where "Freestyle" is, the party cannot be far. Already in the parking area of Tiefenbach Glacier a fun-filled "Après Party" is celebrated from 3.30 pm, followed by the really big closing party at "Katapult" in Sölden's village center starting at 8.00 pm.
6. BECOME A NINE YOURSELF – BE A PART OF THE COMPETITION
You are anything but average on a snowboard or on skis? Then you have the chance to become a part of the Audi Nines yourself (only freestyle)! What do you have to do for it? Simply put together a video clip with your best tricks and send it to the jury. We keep our fingers crossed!
All details about "Become a Nine" Online Video Contest can be found HERE.
7. A PLACE FOR NEW RECORDS
The mission of the Audi Nines (formerly Nine Knights) was and is to constantly push and further develop sports and in particular this event. In the 2016 edition, there was a veritable Height Competition between the Swiss snowboarder Christian "Hitsch" Haller and the US American skier Davis Wise.
In the end, both could set a new Height World Record in their discipline. While Haller catapulted himself 11.3 meters into lofty heights with his snowboard, skier Wise reached unbelievable 14.2 meters!
8. NEW SUPPLIES FOR YOUR SOCIAL MEDIA CHANNELS
© Philipp Kratzer / Ötztal Tourismus
Spectacular moments are guaranteed on the contest day! Capture the action and feed your Instagram account with astonishing pics. And who knows, maybe you'll also have the chance to take a selfie with your personal idol …
9. SÖLDEN PREMIERE AND 10th EVENT ANNIVERSARY
As you know, party time is always a good time! In 2018, the event not only celebrates its Sölden Premiere but also its 10th Anniversary already.
Over the years, the series of events has developed new facets and ideas. Thanks to this philosophy, the first event for female athletes ("Nine Queens") was born in 2011. For the first time in 2017, female and male athletes competed together by conquering the obstacles under the name "Nine Royals".
In the year 2018 we hope that you are at the start, too. To cut a long story short: see you at Tiefenbach Glacier on 14 April 😎 (Cover image: © Distillery)
CONTEST SCHEDULE – SAT, 14 APRIL 2018
Free admission to the event!
11:00 am – 1:00 pm: Qualification rounds
2:00 pm – 3:30 pm: Finals
3:30 pm – 5:30 pm: "Après Party" at Tiefenbach Glacier car park
8:00 pm – 6:00 am: After-event party at "Katapult"
How to get there: There are several ways to reach the event location. If you are already in the ski area on a snowboard or on skis, you reach Tiefenbach Glacier via the connecting ski lifts (check the ski area map HERE). You can also drive there by car on the Glacier Road (tolls!), directly to the parking area of Tiefenbach Glacier (ample parking available). Additionally, a free skibus shuttles takes you to the Glacier Ski Area every 30 minutes.
Further details on the contest day and information on how to get there etc. can be found HERE on the official Audi Nines website.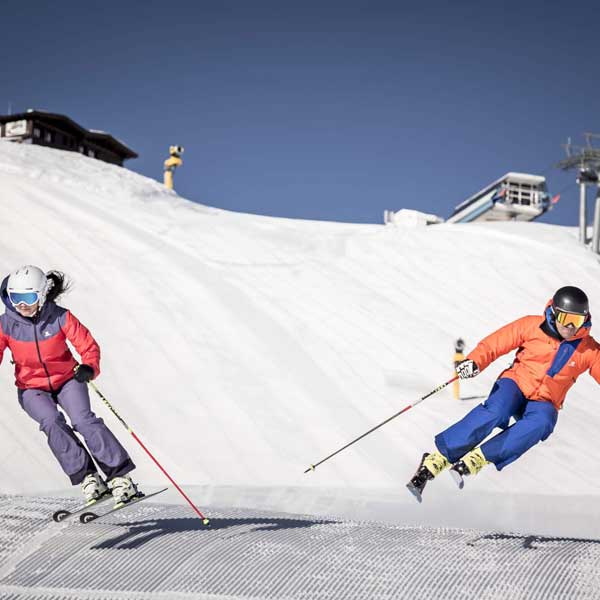 Let's go to Sölden!
Are you still in search of your perfect accommodation for a memorable holiday in Sölden? No matter if you plan your next ski vacation or superb hiking days – The Hot Spot in the Alps offers lodgings for all preferences and pocket books! Hotels of varied categories, apartments & chalets, B&Bs, private guesthouses, inns, holiday houses and quaint mountain huts cater to all tastes, just like the Ötztal valley itself.
The convenient Online Booking Platform run by Ötztal Tourismus guarantees a quick, easy and safe booking process! Guests can take full advantage of exclusive deals and holiday packages. If you have further questions, the experienced team can help you in planning your measure-made holiday as only local specialists will provide you with useful insider's recommendations.
Flipping through our offers you will find your perfect holiday accommodation for sure!
book online