SHRED <3 LOVE | WELCOME TO AREA 47 SNOWPARK SÖLDEN
They love the snow, they love the mountains, they love their twin tips and snowboards – and they love the Ötztal valley area. The shape crew of the AREA 47 Snowpark Sölden is made up of 12 shapers from 8 different countries. Besides the park, they are also in charge of the Funslope and the Adrenalin Cup and they are up in the mountains during the whole winter. We spent a day with park designer Tomek Zwolak and his girlfriend, multimedia shaper Joanna Woronowicz. This is a story about PistenBullys, freestyle tricks, 3000-meter-high mountains, vegan buffets and love…
© Joanna Woronowicz
Shaper House Sölden, 06:45 a.m. | Get Up, Stand Up
"I usually get up at that time because I'm the one in charge of the park opening. Occasionally, Tomek might join me and take a couple of runs through the park. Sometimes he also sleeps in because his main working hours don't start before four in the afternoon." Johanna says.
It is still dark outside, yet the shape crew is ready and set. All of them sitting together in their temporary home for this season and enjoying their breakfast. Both, Johanna's and Tomek's plates make a quite healthy and colorful impression. "We're both vegans, so our day usually starts with a vegetable sandwich. And some coffee, of course!" The scent of coffee is irresistible, however, the time has come for us to get up into the mountains. One last sip and we are on our way to the gondola.
Giggijoch Sölden, 07:45 a.m. | Our Day in the Mountains Starts
It has been snowing lightly during the night, the obstacles are still covered in white gold and Johanna has already gotten ahold of her shape tool. The layer of snow has to be removed and all of the take-offs and landings have to be reshaped. Although Tomek is still with us, he has to be on his way soon,
"I'll take a ride through the park, the Funslope and various stations of the Adrenalin Cup and take notes what has to be done. Later on, we'll have a team meeting where we gonna discuss the reshape in the evening. See ya later!" Johanna and the other shapers who are in charge at the moment are shaping the park into mint condition, so they are able to open the doors on time at 09:00 a.m.
© Joanna Woronowicz
AREA 47 Snowpark Sölden, 10:00 a.m. | It's Shred Time
© Roland Haschka / QParks
The shape crew has already taken their first runs through the park – after all, the results of the finished work have to be tested as well. Shaping in Sölden allows the crew to live out their passion all day long and to spend as much time as possible in the mountains.
"The view from the park's just amazing! We get plenty of sunny days here in Sölden, which obviously adds some extra motivation and I also get the chance to pursue my second hobby besides snowboarding – photography – even in terms of my job because I also maintain the park's Facebook and Instagram pages." Johanna points out. Her smile and her sparkling eyes certainly prove that she has found her dream job – her calling if you will. And where are we going for lunch? "There's a great place down at the end of the park, they even have a salad bar." Oh yeah, there was something, wasn't it… #govegan
© Roland Haschka / QParks
Giggijoch Sölden, 04:00 p.m. | It's Time for a Reshape
Tomek, Joanna and the rest of the shapers are gathering at the snowpark or the Funslope and the Adrenalin Cup, respectively, to reshape the obstacles. Plenty of visitors were riding the facilities during the day and everything has to be in perfect shape again tomorrow.
"We're working at the take-offs, cutting them into the right shape and I'm also driving the Bully through the park, so that everything's in mint condition tomorrow. Sometimes we also build new obstacles in the evening or we add some small changes to the already existing setup. This year, there are a couple of cool new features. The overall concept relies on the thought that everybody should be able to ride the park, but also the more advanced riders should get the possibility the go creative," Tomek says. Today, they will not build anything new and after the reshape it is time to ride down into the valley. Umm… where is the party?
Shaper House Sölden, 07:00 p.m. | After Work
The members of the shape crew are having dinner and enjoy their time after work. It was quite a long day, but the fresh air apparently provides them with plenty of energy. Some of them will go to bed early today, though, but Johanna is in party mood.
"I don't have to get up early tomorrow, so I treat myself with after-work beer. Usually, the party then just kinda happens," she laughs. "There's plenty of options for going out here in Sölden, actually we're quite spoilt for choice."
© Joanna Woronowicz
And what is it like working together as a couple during the whole season? "It works out great, because both of us get the opportunity to do what we love. For Tomek, that's riding the park and the bully and for me snowboarding and photography. Last winter we were working on different projects, Tomek here in Sölden and me in Poland. That was quite a challenge but this winter's going to be easy!" On that note, we are looking forward to a snowy season at the AREA 47 Snowpark Sölden!
You can find the official AREA 47 Snowpark Sölden Website here!
© QParks
Guest Author Stephanie Bürgler
In winter seasons, Mag. phil. Stephanie Bürgler Bakk. phil. lives is in Graz and works as a senior editor in the editorial department of young mountain marketing, whereas she lives in the tropics during the summer months, enjoying her life as a freelance copywriter and social media manager for various athletes, agencies and surf camps.
She had studied journalism and communication science at the University of Vienna, had worked for various music and sports magazines for many years and most recently as a sports reporter for an Austrian radio station.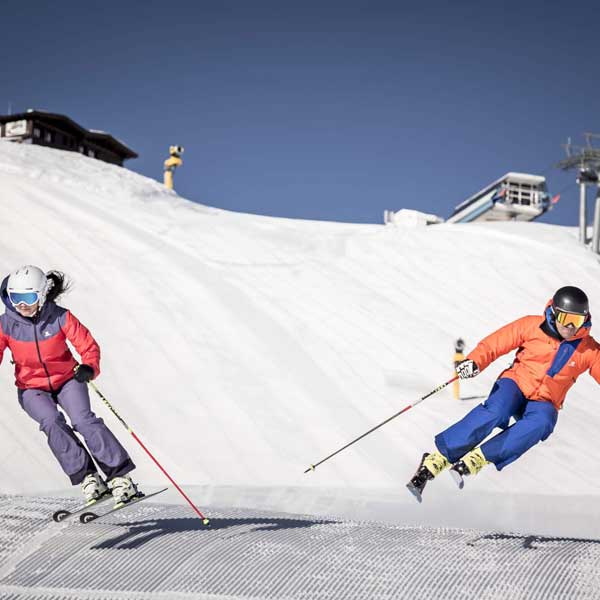 Let's go to Sölden!
Are you still in search of your perfect accommodation for a memorable holiday in Sölden? No matter if you plan your next ski vacation or superb hiking days – The Hot Spot in the Alps offers lodgings for all preferences and pocket books! Hotels of varied categories, apartments & chalets, B&Bs, private guesthouses, inns, holiday houses and quaint mountain huts cater to all tastes, just like the Ötztal valley itself.
The convenient Online Booking Platform run by Ötztal Tourismus guarantees a quick, easy and safe booking process! Guests can take full advantage of exclusive deals and holiday packages. If you have further questions, the experienced team can help you in planning your measure-made holiday as only local specialists will provide you with useful insider's recommendations.
Flipping through our offers you will find your perfect holiday accommodation for sure!
book online