Adrenalin Cup Sölden
Fun on the slope at its best
One thing is for sure: skiing in Sölden always involves ultimate fun on the slopes as the unrivaled Hot Spot in the Alps offers something for all preferences. Among the highlights ranks the Adrenalin Cup which is free of charge for holders of a valid Sölden skipass. Participants in the Adrenalin Cup can choose from 10 fun-filled disciplines in the snow. So don't wait any longer and indulge in this unique World Cup flair: get a photo of action-packed moments on the slope or a great action video, improve your skiing techniques and conquer the highest mountains on skis.
All those taking part in the
Adrenalin Cup Sölden
can compete against family and friends – either in action-filled speed disciplines, on winter walking routes or on the exciting BIG 3 Photo Safari. Soon you'll notice that boredom is literally unknown on Sölden's ski mountains. And there are
many more extra highlights
:
The more disciplines you try the more points you collect for the overall Adrenalin Cup Ranking. And at the end you can also win great prizes!
Would you like to track an entire ski day and all your adventures? If you participate in the Adrenalin Cup each starting signal, each snapshot and finish line photo will be recorded automatically.
How does the Adrenalin Cup work?"
First things first: the disciplines are not meant only for ski or snowboard pros! Every winter sport aficionado is warmly invited to take part in the Adrenalin Cup. Fun is of utmost importance!
How to become part of the Adrenalin Cup Community:
Purchase a Sölden skipass
Register your skipass code online at adrenalincup.soelden.com
Take part in the 10 fun-filled disciplines
You can try each discipline as often as you want – the best results count
You don't have to master all 10 disciplines but you can choose your favorite challenges
At the end of every month and at the end of the entire winter season you can win great prizes depending on the number of points you have collected.
Adrenalin cup for classic alpine sports fans
You feel at ease on perfectly groomed ski slopes? You are a classic Alpine skier? Then you are strongly recommended to try the following disciplines.
Giant Slalom
Location: BMWxDrive race track right on Giggijoch, accessible via C36 + C37 ski lifts
Fully automated timekeeping and video of your run.
Slalom
Location: Starts right at the middle station of Gaislachkogl gondola (A10)
Fully automated timekeeping and video of your run.
Carving
Location: Adjacent to A13 ski lift, accessible via A14 ski lift
Fully automated timekeeping and video of your run.

Adrenalin Cup for Action Enthusiasts
You are a fairly experienced snow sport fan? You prefer off-piste skiing or freeriding? Then you should take a closer look at these demanding challenges.
Freeride
Location: Piste 11, accessible via 4SK Hainbachkar + Silberbrünnl, 6SK Langegg
Fully automated timekeeping and video of your run.
Speed
Location: Directly on Giggijoch, accessible with C36 + C37 ski lifts
Fully automated timekeeping and photo of your run.
Flight
Location: this discipline can be found next to Heidebahn A13, accessible via A14 ski lift
Fully automated measuring of your jump in meters plus photo.
Mix Race
Location: Right on Giggijoch next to the Fun Slope, accessible via C36 ski lift
Fully automated timekeeping and video of your run.
Mogul Piste
Location: Rettenbach Glacier, accessible via E61 gondola or E60 chair lift
Fully automated timekeeping and video of your run.
Adrenalin Cup for leisurely Winter Sport Fans
You are fond of pleasant activities, fresh mountain air, picture-book panoramic views – simply looking for a memorable winter vacation? The following Adrenalin Cup disciplines are made to measure for you.
Winter walking
Location: Next to Gaislachkogl's middle station, accessible via A10 gondola
Fully automated timekeeping of your hike plus photo.
BIG3 Foto Rallye
Photo Points:
Restaurant Schwarzkogl
Top station 8UB Schwarze Schneid II
Top station 8UB Tiefebachferner
Gaislachkogl Restaurant Powder Q
Photos of your adventurous Ski Safari are taken.
Truely exciting Adrenalin Cup Sölden
What's best, taking part in the Adrenalin Cup you discover the whole Sölden Ski Area in the most uncomplicated way by trying – maybe – also the one or other new discipline or ski slope.
More details
Which are your favorite fun disciplines?
Leave us a comment.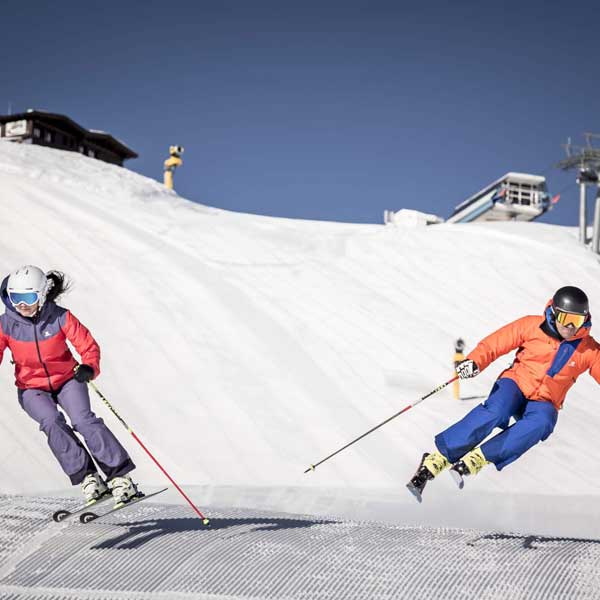 Let's go to Sölden!
Are you still in search of your perfect accommodation for a memorable holiday in Sölden? No matter if you plan your next ski vacation or superb hiking days – The Hot Spot in the Alps offers lodgings for all preferences and pocket books! Hotels of varied categories, apartments & chalets, B&Bs, private guesthouses, inns, holiday houses and quaint mountain huts cater to all tastes, just like the Ötztal valley itself.
The convenient Online Booking Platform run by Ötztal Tourismus guarantees a quick, easy and safe booking process! Guests can take full advantage of exclusive deals and holiday packages. If you have further questions, the experienced team can help you in planning your measure-made holiday as only local specialists will provide you with useful insider's recommendations.
Flipping through our offers you will find your perfect holiday accommodation for sure!
book online