A skilled woman in a male domain
The mountain bike season slowly comes to an end in the Bike Republic Sölden. Nevertheless some busy bees are involved in extending the network of new trails and lines within the "State Territory". Two of the helping hands belong to 47-year old Valerie Naylor from the USA. She is a true expert when it comes to working with the mini-digger! Reason enough to look over her shoulder while she is working with the excavator shovel.
Autumn is in the air at Rettenbachtal
© Hannah-Lena Oberleitner / Ötztal Tourismus
Meet here: Glacier Road, turn 8
As agreed, Leo of the Bike Republic Sölden picks us up on the Glacier Road, slightly behind turn number 8. We leave the asphalt road, heading towards the access trail to Rotkogljoch. My eyes wander over the snow-topped peaks: autumn is already in the air at such high Alpine altitudes, announcing the arrival of winter.
The exact place of our on-site inspection (14 Sep 2017) is "Ollweite Line" which is under construction. An approximately 7 kilometer long flow line leading from the water reservoir below Rotkoglhütte mountain hut down to the valley of Rettenbachtal. Leo informs us that there are about 25 trail builders working on two different routes – the above mentioned "Ollweite Line" (Ötztal dialect word for outdoors, in the open) and "Lettn Line" (Ötztal dialect word for mud).
In favorable weather conditions, the two new lines will be opened on occasion of the 2018 Bike Opening Event. All summer long the trail design experts have been working at full speed, building incredible 12 kilometers of new routes!
Simply follow the digging rumors
We walk on foot for the last few meters. And we are definitely on the right trail – as we hear the permanently increasing digging rumors. Soon we can make out a mini excavator in the distance. This must be Valerie! Exactly, the US girl leaves the small digger and says hello.
What on Earth is the reason for working as a trail builder in Sölden? Valerie is eager to tell us her story: she met her compatriots Chris Bernhard and Chris Kehmeier during trail construction works in Florida. The two guys from the USA are also responsible for the trail design concept of the Bike Republic Sölden.
From the Appalachians straight to the Ötztal Alps: Valerie Taylor & her excavator
© Benedikt Steiner / Ötztal Tourismus
The two expert trail designers were still looking for a skilled trail builder as Sölden's rocky and steep terrain requires a lot of experience. They already knew Valerie from her previous trail building job, and they were convinced that she was the right person for the huge project overseas. They contacted Valerie and she was enthusiastic about this opportunity right from start.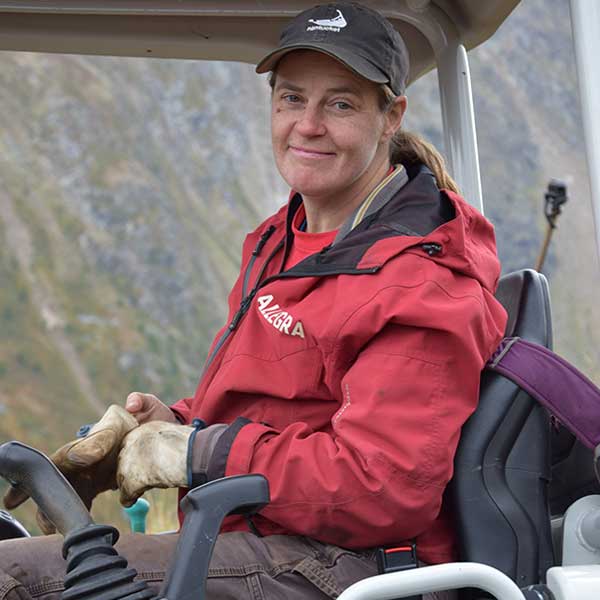 Putting on gloves – ready to continue …
© Hannah-Lena Oberleitner / Ötztal Tourismus
Digging deep into a male domain
Valerie now lives in Sölden for already two months, supporting the "Hand Crew" – a team of men behind Valerie's digger, equipped with shovel, pickax and rake. They highly appreciate her work! The more precise the "engine driver" works the better it is for the digging, shoveling and raking team.
Also Leo, a digger operator himself, confirms Valerie's truly outstanding construction skills: "If you are an expert in the field you can even better judge the accuracy and precision of Valerie's work."
Valerie is happy about the digging machine she can work with here in Sölden. First she wasn't used to this type of excavator which has a fairly different shovel compared to the models available in the States: "It's a superb digger and you can do almost everything with it! The excavator is not incredibly fast but made to measure for the steep and rocky terrain".
Sölden as the "Gate to Europe"
Valerie's working day starts already at 7:30 am in Sölden. After coordinating the crew, fueling the digger and doing maintenance works everyone is ready to hit the slopes. Valerie was given a warm welcome by all team members. "First I thought that they all talk German, but it's not real German", she admits with a broad smile.
One thing you should know: for Valerie it's the first stay in Europe! Therefore she is exploring also the surrounding countries on the weekends – short trips to Italy, Germany or Switzerland are on the program. Of course, she is also a passionate mountain biker and has already tried and tested the trail network of Sölden. Among her favorites rank the single trails and lines for skilled bikers, for example scenic Leiterberg Trail.
Everything under control or in the shovel …
© Hannah-Lena Oberleitner / Ötztal Tourismus
The yellow formwork panels in the background protect from falling rocks
© Hannah-Lena Oberleitner / Ötztal Tourismus
Ötztal Alps vs. Appalachian Mountains
Valerie's first impression? Ötztal and Sölden are truly awesome and steep, devilish steep! The moment of her stay that Valerie remembers best is the snow-covered Glacier Road: the steepness of the road combined with the freshly fallen snow represented a true challenge.
Clearly Valerie isn't used to such precipitous terrain although she comes from the Appalachian Mountains – a mountain chain in the east of North America, which is not so high and less steep than the Ötztal Alps.
I am curious if there were more women working in the US trail building sector? Very few, she admits. But why? Valerie doesn't think that the hard physical work is the reason for that as the construction of trails requires smart, intelligent and farsighted efforts. Probably most women don't even know that such a job exists! But one thing is for sure, Valerie is a prime example of a trail builder …
The Bike Republic Sölden is open until 01 October 2017. You can check each trail status plus a complete overview of all currently open lines
HERE
.
(Cover image: © Hannah-Lena Oberleitner / Ötztal Tourismus)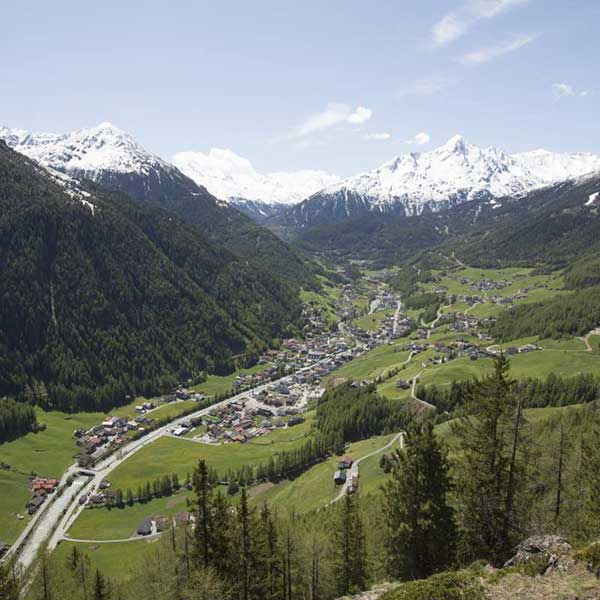 Let's go to Sölden!
Are you still in search of your perfect accommodation for a memorable holiday in Sölden? No matter if you plan your next ski vacation or superb hiking days – The Hot Spot in the Alps offers lodgings for all preferences and pocket books! Hotels of varied categories, apartments & chalets, B&Bs, private guesthouses, inns, holiday houses and quaint mountain huts cater to all tastes, just like the Ötztal valley itself.
The convenient Online Booking Platform run by Ötztal Tourismus guarantees a quick, easy and safe booking process! Guests can take full advantage of exclusive deals and holiday packages. If you have further questions, the experienced team can help you in planning your measure-made holiday as only local specialists will provide you with useful insider's recommendations.
Flipping through our offers you will find your perfect holiday accommodation for sure!
book online