A Piece of Sölden in Cologne
Regular Guest Portrait: How A Gondola Cabin Made Its Way From Sölden To Cologne
A true Sölden fan spares no effort. Just like Lars Arenhövel and his family from Cologne. Every 14 days in winter, the passionate ski family has been traveling some 681 kilometers from the Dome City to remote Ötztal Valley – already for years or even decades. I met the lovely family on occasion of the last Electric Mountain Festival, and accompanied them on a downhill run. Enough time to learn more about a gondola cabin that made its way from Sölden into the family's garden in Cologne.
The "dabbing" Arenhövel Family in the foreground, the snow-covered Timmelsjoch Road in the background © Benedikt Steiner / Ötztal Tourismus
Summer tires at Timmelsjoch …
Lars doesn't remember his first stay in Sölden at the age of three in 1973, his parents told him about it. The ski holiday four years later sticks in his mind: arriving from South Tyrol across Timmelsjoch Pass, they were looking forward to summer skiing on the glacier slopes of Sölden.
Due to a sudden fall in temperature coupled with a bad weather front, their rear-wheel drive car came to a standstill on the pass road. "That was a terrible ride, many drivers tried to go uphill in the reverse gear. We sat on the car trunk to stabilize the back axle and fortunately it worked," the dentist from Cologne remembers.
Growing up in Sölden – At least on the weekends
"I grew up at the Linserhof guesthouse, we always stayed there when we came to Sölden. As a youngster I often slept at Markus Fiegl's house in Windau and it was a real blast," enthuses Lars. We also stayed overnight at the parking house (we forgot to reserve a room) or in the sauna (same reason). "Because Markus had a great heart," he smiles.
Also during his time at University he remained a regular guest at the Heartbeat of the Alps. Until today: In the meantime he takes the whole family from Cologne to skiing short breaks in Sölden, his wife and two sons, every two weeks!
Together on the orange ski lift, the favorite slope of Philipp and Til
© Benedikt Steiner / Ötztal Tourismus
The reason why he is coming to Sölden again and again? "Ma parents fell in love with this valley. My mum loved driving cars, especially the panoramic Timmelsjoch High Alpine Pass Road. Of course, now we have a great emotional attachment to Sölden, the Ötztal Valley and the locals."
"We also appreciated the superb child supervision and the expert ski instruction when our sons were younger. That was one of the decisive factors," Lars explains. With a twinkle in his eyes he adds: "If the kids are well looked after mum is on holiday. And if mum is on holiday daddy can relax, too."
Sölden Gondola Cabins in the Rhine Metropolis
A piece of Sölden in Cologne: A cabin of the old Gaislachkogl Mountain Gondola in the garden of the Arenhövel Family © Lars Arenhövel
If the family can't be in Sölden, there is at least a piece of Sölden with the family in Cologne. Their garden features one of the Gaislachkogl gondola cabins! How did that come about? Lars states: "It's the result of a long and entertaining night together with one of the authorized Mountain Lift officers. I told him that I had no Christmas wishes but I dreamt about a gondola cabin in case the old ones would be replaced in the future."
Many years later, the time has finally come: A new Gaislachkogl Mountain Gondola was built and Lars received one of the old gondola cabins. A friend from Munich took the cabin on his truck to Cologne – where they placed it straight into the Arenhövel's garden with the help of a crane.
Comfy waiting for the dentist: Lars Arenhövel (on the right) and his team in one of the old Giggijoch Mountain Gondola cabins © Lars Arenhövel
Meanwhile a second gondola cabin made its way from Sölden to Cologne. More exactly, a cabin of the old Giggijoch Mountain Gondola, which was replaced last year, can be found in the front yard of Lars Arenhövel's dental office. Perfect to while away the waiting time and to forget this uneasy feeling…
(Cover image: © Benedikt Steiner / Ötztal Tourismus)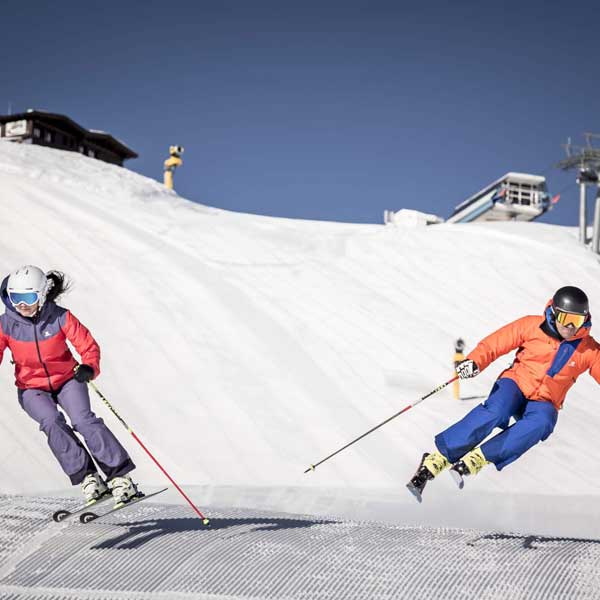 Let's go to Sölden!
Are you still in search of your perfect accommodation for a memorable holiday in Sölden? No matter if you plan your next ski vacation or superb hiking days – The Hot Spot in the Alps offers lodgings for all preferences and pocket books! Hotels of varied categories, apartments & chalets, B&Bs, private guesthouses, inns, holiday houses and quaint mountain huts cater to all tastes, just like the Ötztal valley itself.
The convenient Online Booking Platform run by Ötztal Tourismus guarantees a quick, easy and safe booking process! Guests can take full advantage of exclusive deals and holiday packages. If you have further questions, the experienced team can help you in planning your measure-made holiday as only local specialists will provide you with useful insider's recommendations.
Flipping through our offers you will find your perfect holiday accommodation for sure!
book online